Bullymake review – after two years
We've been happy customers of Bullymake for over two years now, so we thought it was high time for a Bullymake review based on our personal experience. We run a dog rescue and Bullymake toys are enjoyed by our large number of dogs daily, several of which we would classify as power chewers.  Share a new toy with a couple of Pitbulls, Labs, and Shepherds with powerful jaws, and you'll see what a toy is made of! 
What is Bullymake ?
Bullymake is a subscription box service specifically tailored to dogs and their owners. Each month, they deliver a package of tough, high-quality toys, treats, and chews personalized for our pup's size, activity level, and dietary needs. This makes it easier than ever to keep our dogs entertained with new toys each month without having to go out shopping ourselves. A real gem in pandemic times!
Bullymake has become increasingly popular among dog owners due to its unique approach to providing specialty items for pets tailored to their size, activity level, and dietary needs.
Personal Experience
We found signing up and customizing our dog's preferences incredibly easy. We were able to choose specific items according to their size, activity level, and dietary needs which allowed us to get the most out of each Bullymake box.
The quality of each Bullymake toy included in each monthly box has been consistently high, and we've had very few issues. They are made of nylon, rubber, or ballistic material (kevlar), and so far they seem to last forever, maybe longer.
We also appreciate that Bullymake changes up their selection often, so our pups are always getting something new and exciting to play with or chew on.
We have quite a few dogs running a rescue, but one in particular – Rusty – knows the size, shape, and color of the monthly Bullymake delivery and goes a little bit out of his mind when it arrives.
Here's a video of him "opening" one of the Bullymake deliveries. I think this box may have been made out of Kevlar too!:
The quality of the toys and treats included in each month's box is one of the main reasons why we've stayed with Bullymake for so long.
Additionally, the treats have all been made from natural ingredients and are free of additives and preservatives. This is important since we want only the best for our pup!
We've found that all the items delivered have been high-quality, which means they're safe and non-toxic for our pup while also lasting a long time. 
We have a couple of Pitties and other large dogs so have some power chewers. The Bullymake chew toys last months, even with our tough crowd. We have a dedicated toy box that the dogs pull from when they want, but we've yet to train them to put them back. None of the older, even the oldest, chew toys ever seem to go out of style as far as the dogs are concerned. They chew on new ones every bit as much as they chew on the older ones.
I think dogs are the most amazing creatures; they give unconditional love. For me they are the role model for being alive.

~Gilda Radner
Bullymake pricing
One irritant, perhaps, is that they hide their pricing behind a "tell us about your dog and then give us your email address" front, which I just don't care for.
However, after a bit of searching, I was able to find direct URLs for their pricing pages. I did not see a way to get to these pages from their main page (which, again, irritates me!).  I may have overlooked it.  But, here they are:
Bullymake Annual subscription ($372 annually)
Bullymake 6-month subscription ($204 semi-annually)
Bullymake monthly subscription ($31 monthly)
As of the time of this writing (Mar 2023), according to the above pages, the prices are:
Annual = $31/month x12 = $372 annually
6-Month = $34/month x6 = $204 semi-annually
Monthly = $31/month
…that doesn't make any sense, but these are the prices pulled from the respective pages. I can't imagine paying monthly ($31/month) is less per month than a 6-month commitment. Any multi-month commitment should be a discount from the monthly price. I'm sure if you walk through the process or talk to customer success, there is more to it than what the pages are showing (or the wording on the pages is just incorrect).
I'm making a mental note to re-check these pages and prices in the future, and I'll update this page if they change
Pros of Bullymake
As we see it, there are some strong "pros" to Bullymake
Convenience
A new box is delivered right to your door each month. It can't be much more convenient than that!
You and the dogs easily recognize the Bullymake box (think orange shoe-box). One of our dogs definitely recognizes a Bullymake box from other deliveries.
Quality
Over the years, we've received probably a hundred or so chew toys and out of that batch, we've had to call Bullymake about maybe one or two of them. The vast majority are well made and will last months, if not years, even with our most aggressive chewer.
The toys are made of Nylon, Rubber, Kevlar or Ballistic, and rope. They also offer custom treats.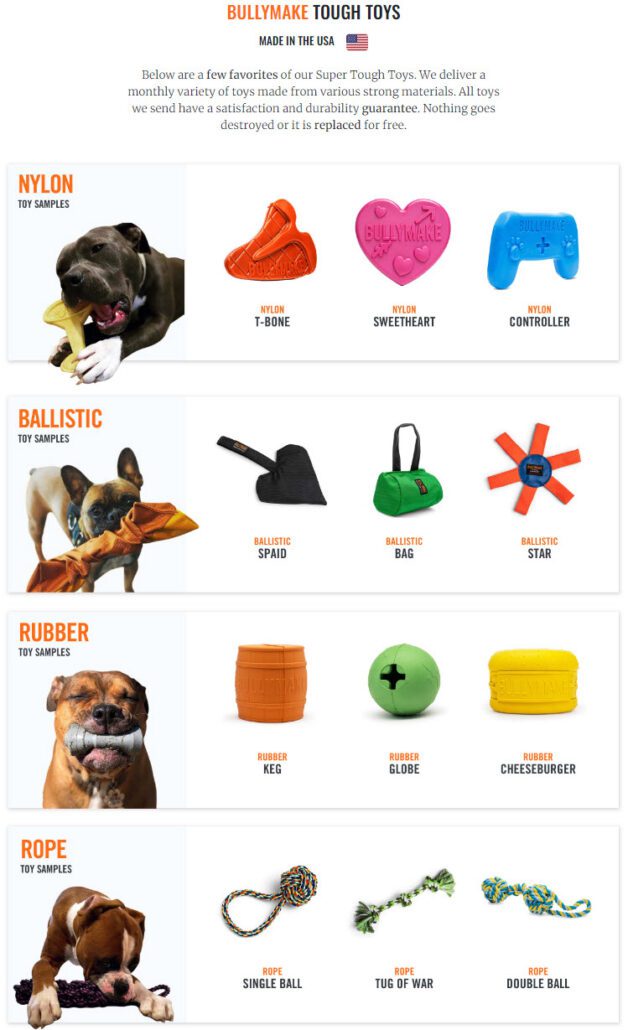 Their toys have a satisfaction guarantee – if a chew toy gets destroyed, they replace it for free. Having several heavy chewers in our pack, this type of guarantee is super important for us.

Variety
Each month brings new and exciting themes of toys. Holidays will have holiday-themed toys (a sleigh for Christmas, a ghost for Halloween, etc.).  There seems to be no end to the Bullymake designs you'll find in the monthly boxes. 
…and most of the time, they throw in an extra toy or two as well.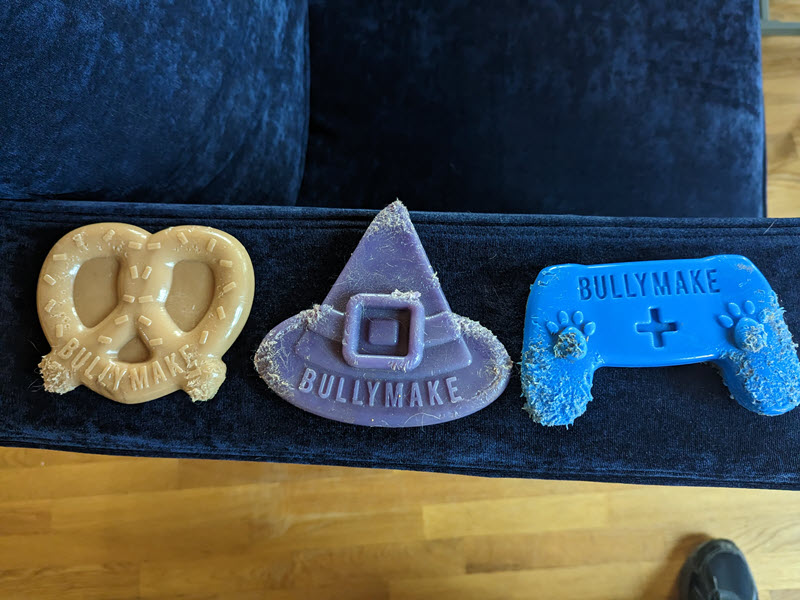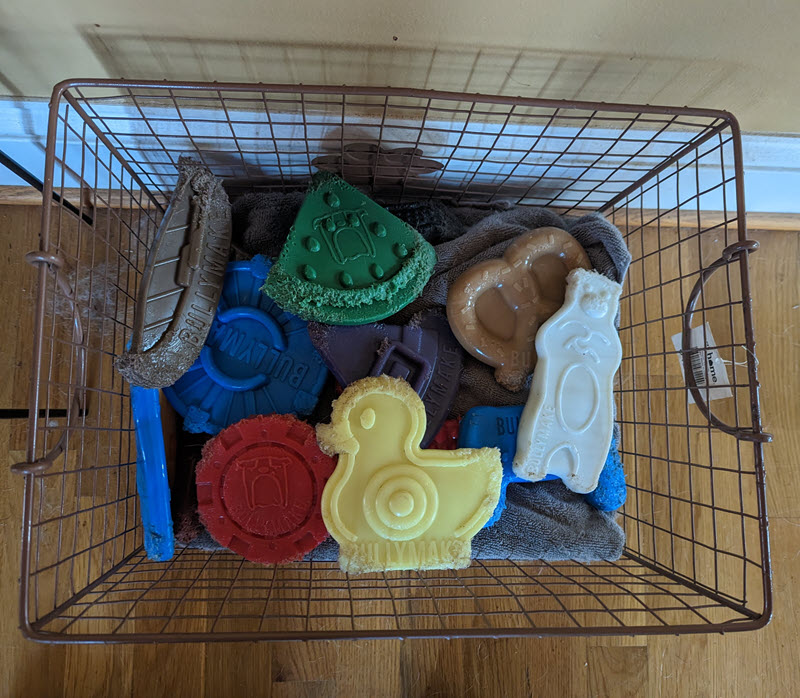 You can customize your monthly delivery to choose a type of toy, mix and match toys, or choose a toys-only box with no treats (nice for allergenic dogs).
We had a bad experience where one of our dogs died after chewing on a rope toy. She ate some of it, and it got tangled up in her guts. Since then, we don't allow rope-type toys and advise others against them. Bullymake does include rope toys in their boxes, but we called them and had them specifically not include any in ours. To this day, we have never received a rope toy from Bullymake.
Bullymake Customer Service
In the extremely rare case when we have needed to call, we've gotten amazing service and if something needs to be replaced, it's delivered immediately and you throw whatever didn't work away. No worry about sending something back. The people you talk to are super friendly, and you get the impression they are not just employees but folks who actually own and love their own pets, so understand why you are calling. Bullymake customer service is a real treat in a world of horrible customer service.
As a side note, I believe that a fantastic product is supported by, but also supports the ability to have a strong customer service team. They get fewer calls because their product is so good, allowing them to focus on people when they do call. Their superior customer support is also attributable to how good their products and deliveries are.
Cons of Bullymake
I haven't seen many. Cost is probably the biggest hurdle for most folks
Cost – monthly subscription boxes can be expensive for some people and may not fit into everyone's budget
Lack of Personalization – while you have the ability to customize your box according to your pup's size and dietary needs, there is still a limited selection of products that could be delivered in each box
Bullymake compared to other dog subscription box offerings
Not much expertise here as we chose Bullymake in the beginning and never looked back. But based on what I see on websites and reviews, the below seems accurate.
I want to stress that this isn't a "buy this and not that" article. I believe any of the below offerings are solid, you'll get your money's worth, and your pups will love you even more.
As I was researching the competitors, I should note here that Consumer Reviewer ranks Bullymake as the best subscription box for 2023. Yay! Read more about that here.
I believe BarkBox has the lion's share of the market right now and with good reason. They make good toys offer flexible plans, you can customize your box, and from what I see, have solid customer service. Their pricing is super competitive.
We've been buying Kong toys for years and are big fans. I have exactly zero to say against anything Kong does.
Interestingly enough, as of Feb 2023, just last month, they discontinued the subscription box service and now only offer a digital wellness and training service.
Doesn't matter to me. When I'm in the store and see a Kong toy, I buy it.  I'm not sure there is a more durable toy for your dog than Kong toys.  Huge fan. 
Bullymake vs. BoxDog
I haven't seen much of BoxDog, and based on their website, they seem to be a new player in the field – I see entries dating back to 2020. Their "About" page is a bit unclear and hard to find. BUT, all of their treats are handmade, so that's a plus! They even explain that since their dog cookies are baked with the same ingredients you use to make cookies, you can eat your dog treats with your dog. Hmmm….
Bullymake vs. Chewy
I'm including Chewy here as they are the elephant in the room. I do not see that they offer a monthly subscription service like we are talking about here, but you can order toy boxes and such and set it up for auto-ship. So you're getting a box regularly, but it feels like the customization, etc, may not be on the same level as others.
How to cancel Bullymake subscription
So you read the extensive competitive reviews above and are ready to switch?  :-)  I know I'm not that persuasive, nor were the reviews that extensive.  But I bring this up because it seems to be a bit of a mystery how to cancel your Bullymake subscription.
I can't speak from experience here, as I've not done it, nor will I be doing it, but from their website, the process seems pretty straightforward.  Email [email protected] or use their live chat app from their website.  Here's a screenshot from their FAQ section: 

Conclusion
Overall, Bullymake is a great choice for those seeking a subscription box filled with healthy treats and tough chew toys tailored to their pup. Bullymake offers competitive pricing, customizable boxes, amazing customer service, and top-notch quality products that will keep your pup happy and entertained.
Having been a Bullymake customer for a couple of years now, I have to say that they are my top pick when it comes to monthly subscription boxes specifically tailored to our pup. We love getting surprises every month and seeing how excited our pup gets when his box arrives. Bullymake has become an integral part of our pup's life and it's a great way to show them how much we love them. We highly recommend giving Bullymake a try and seeing just how much joy it can bring your pup!