I started writing this to create a "dog bed review" article but after years of buying beds and seeing what our dogs really like, I decided to focus on a single bed that we have found to be a very comfortable and calming dog bed that our pack loves.
That's the Coolaroo dog bed, which has become a standard for us, and we have ended up with them all around our house.
Coolaroo dog bed – the best calming bed for dogs
You can find the Coolaroo dog bed on Amazon.  With over 17,000 reviews averaging out to 4.5+, almost a thousand answered questions, and an excellent price, it's worth a close look.  It's also quite simple to put together.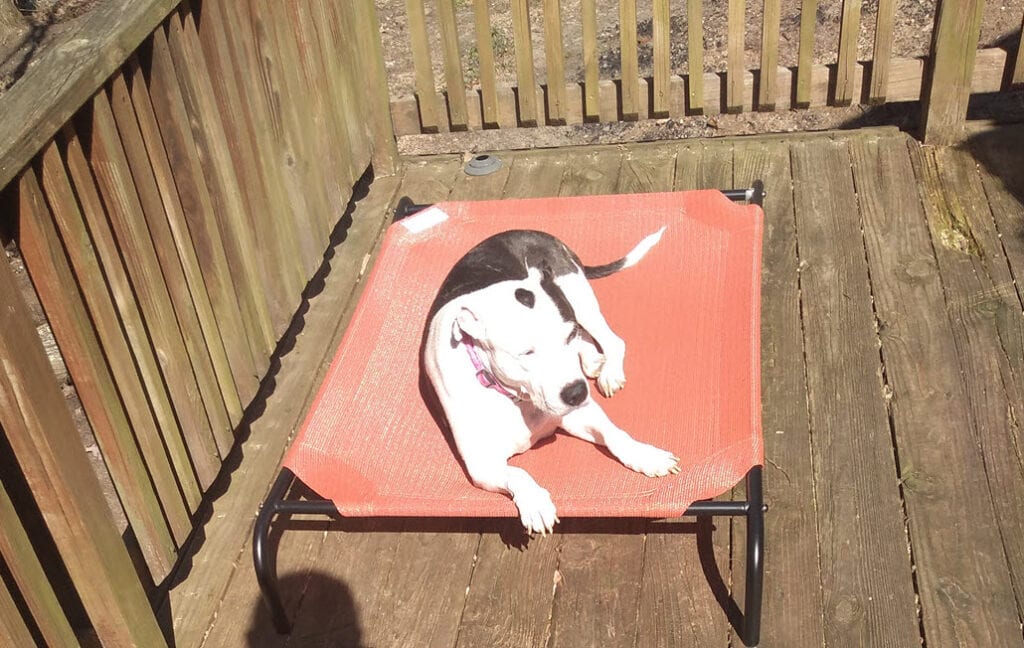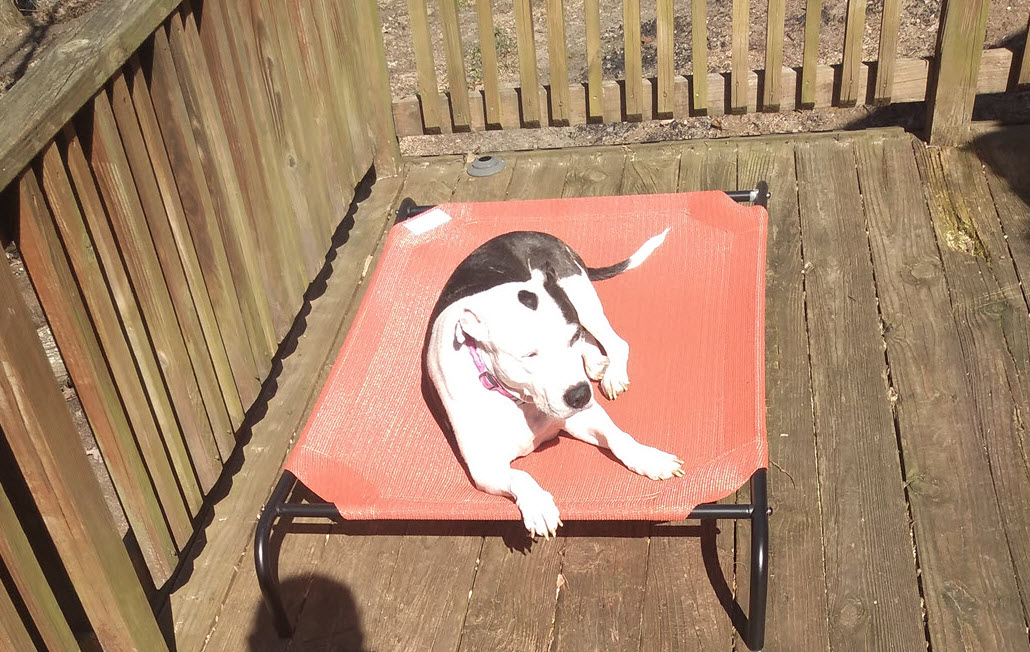 We've bought just about every type of bed you can imagine and have yet to find one that is so universally loved by our pack.
There is so much to love about this bed:
It's raised, so easy to clean under, which is good as the mesh fabric also acts as a kind of brush, and you'll find a lot of hair under the bed if it's been in one place for an extended length of time.
Being raised allows air to circulate the dog, so it helps keep the dog cool.
It's easy to clean by just taking it outside (it's light and easy to carry) and hosing it down.
The legs and frame are made of metal, and the sleeping area is made of strong mesh.
This mesh fabric is resistant to fleas, mites, mold, and mildew.
The bed weighs about five pounds and takes less than 10 minutes to put together.
We have seen some chewing on the corners, but only on one, which wasn't destroyed. It was like the dogs were checking it out to see what it was made of.
The Coolaroo dog bed comes in three sizes (small, medium, large) and various colors.  I have seen extra-large on occasion, so they are out there but a bit more difficult to find.
We have several Coolaroo beds around our property, but on a nice day, it's fun to bring them up on the deck so the dogs can get their time in the sun.  They seem to do good in poor weather, as we have left them out during storms.
Since the construction is basically strong fabric mesh and metal, not much will go bad.
They don't weigh much, so they can get blown around in strong winds – keep this in mind if leaving outside in the elements.
The sizes and weight ratings for the beds are as follows.
| Size | Dimensions (L x W x H) | Weight Capacity |
| --- | --- | --- |
| Small | 35 x 22 x 8 inches | Up to 50 lbs |
| Medium | 42 x 25.5 x 8 inches | Up to 75 lbs |
| Large | 51 x 31.5 x 8 inches | Up to 100 lbs |
| X-Large | 59.8 x 37 x 8.85 inches | Up to 150 lbs |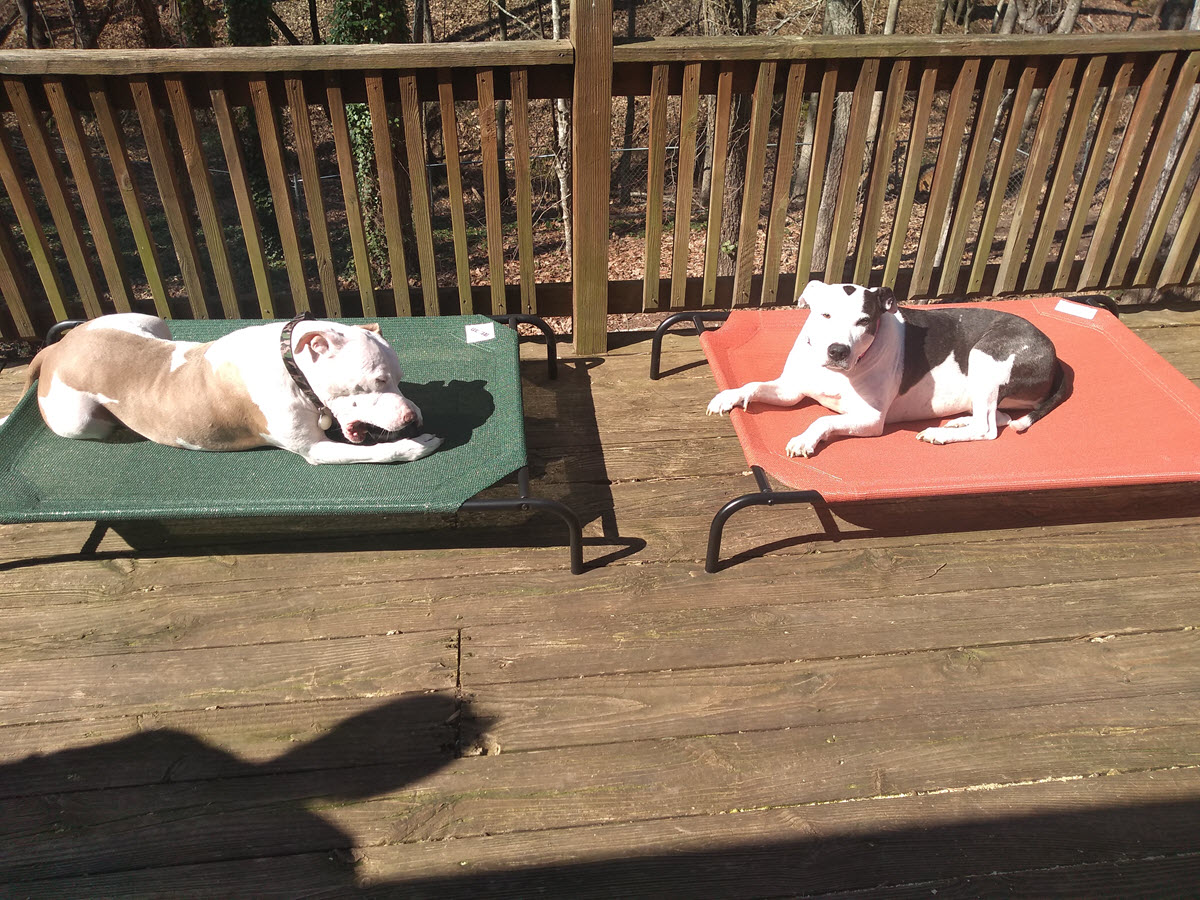 Brother/Sister team Rocket and Rusty are hanging out in their Coolaroos on the deck. These two are a part of our pack that we've rescued and brought home. 
Rusty working on that Kong while Rocket works on her tan.  We are ultra-sensitive and cautious about their chew toys due to a bad experience.
Interestingly, these are large beds, and both Rocket and Rusty can often be found piled up on the same one.  That's about 150 lbs of dog.
Brodie's recommendation
Brodie, my brother's dog, wants to make a recommendation – he thinks he looks pretty good on his customized bed. I believe this is a Memory Foam Large Bolster Dog Bed from Gordy and Sons.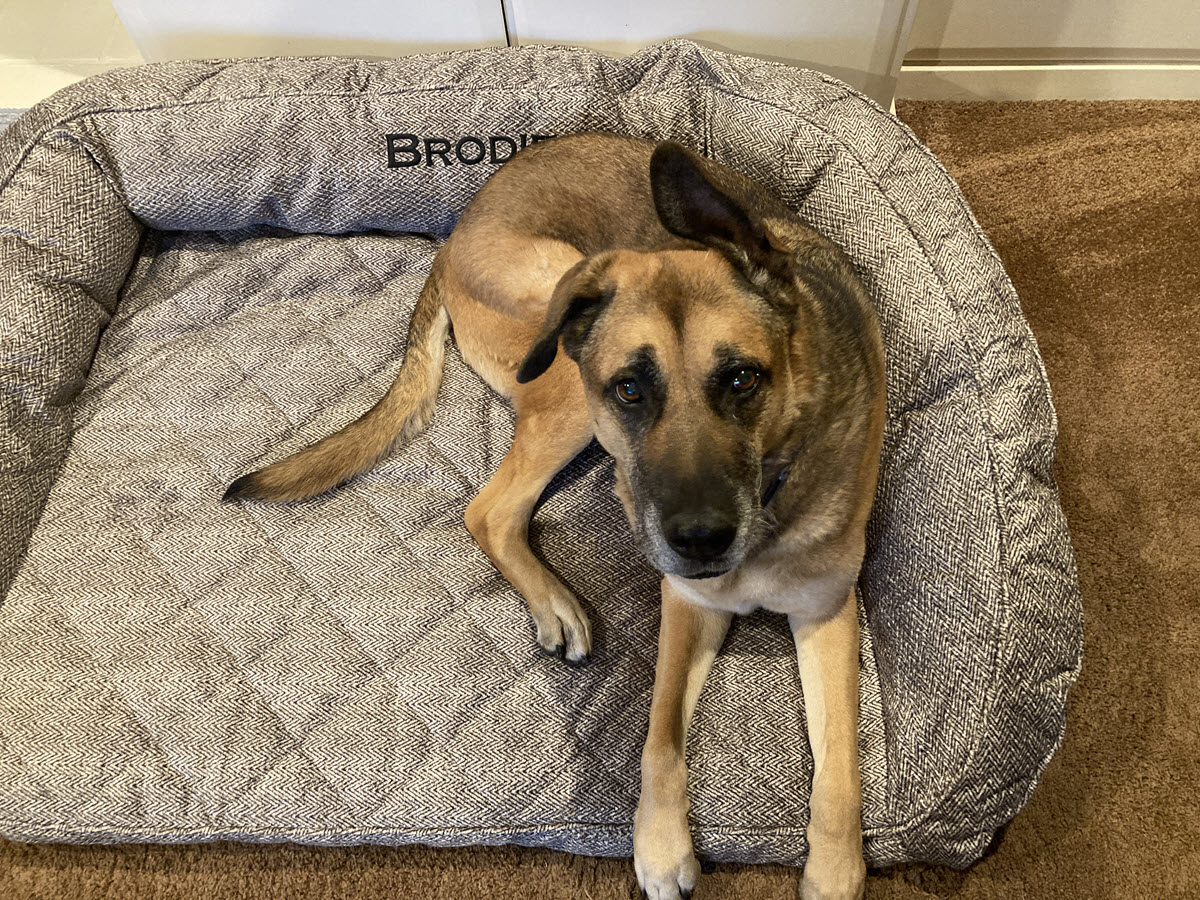 The most expensive but comfortable "dog bed" we have:
We love Lovesac furniture and have their huge bean bag. It's enough for three people to chill out comfortably.
Or, you know, one dog: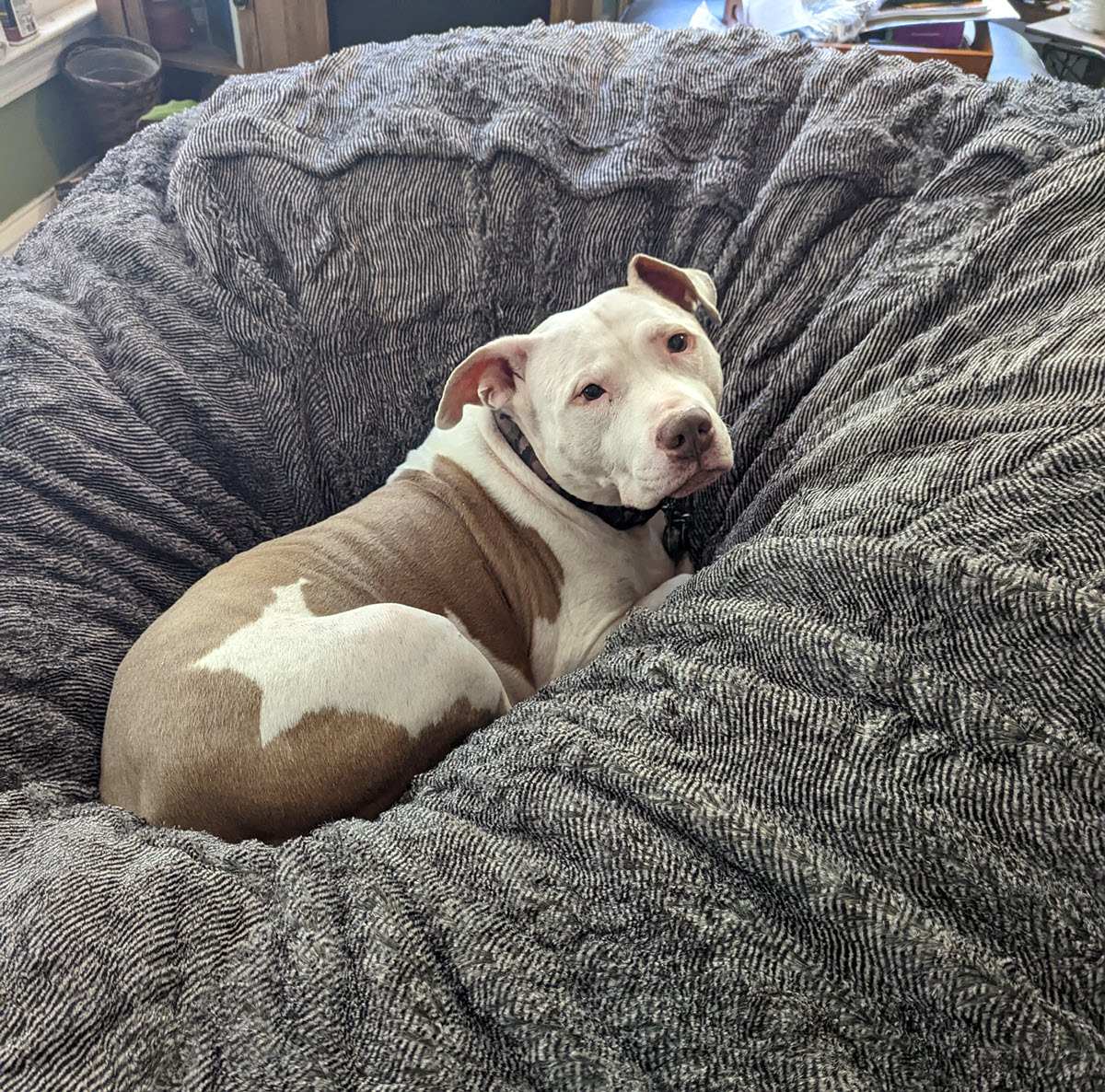 Rusty has it all to himself.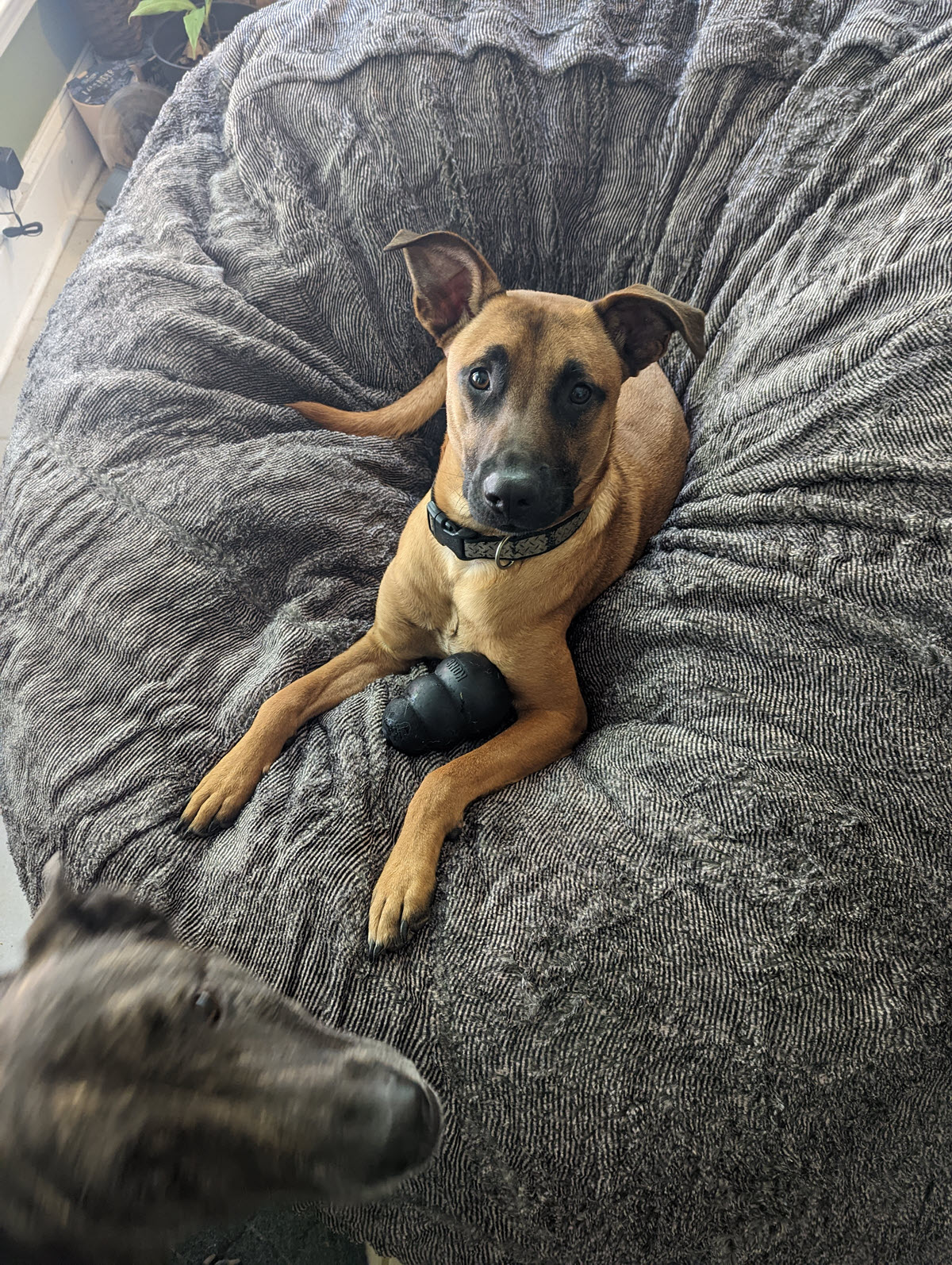 Dexter is on the Lovesac while Penni waits her turn.
I would never pay Lovesac money to buy a dedicated dog bed, but you can get a lot of non-Lovesac giant bean bags on Amazon for much less.
Your dogs will love them every bit as much as Dexter and Rusty love the Lovesacs.
Another soothing dog bed to take a look at
We've seen and tried the big fluffy beds that are out there, and although the dogs do enjoy them, in the end, they don't last.
For our pack, those kinds of beds become a form of disposable beds.
Expensive disposable beds.
But, if your dogs are not chewers and you think it would last another extremely comfortable bed will surely calm your anxious dog down. It could be the ultimate anxious dog bed for the dog with the right temperament.
Take a look at the Donut Bed by Best Friends by Sheri:
This bed is very reasonably priced and has over 10,000 reviews on Amazon
with a 4.5+ star rating.
It is constructed as a kind of donut with a raised edge to support the head and neck and a softer middle, so the dog's body is comfy and cuddly, how they like it.
The texture on this bed is shag, and it is available in several different sizes and colors.
These dog beds are machine-safe for washers and dryers – nothing to remove; throw the whole thing in the washer.  These beds are lightweight and easy to carry from room to room as needed.
As I mentioned above, note on the page you are cautioned against buying this bed for a puppy or a dog with a chewing or teeth disorder.  But for the dog with the right temperament, this is an excellent consideration when searching for the best calming bed.
Comfy calming dog beds – wrapping it up
I hope this has helped a bit.
A good night's sleep and a nice, safe, and cozy place to lay their head is something that can help with any dog's mood.  A cozy, comfy, calming dog bed is a great way to keep your puppies happy and healthy.
We've published another article detailing our experiments in finding an indestructible dog bed. We have aggressive chewers, so we went through the rounds for that and, in the end, found beds that are very tough and yet exert a calming influence as well.
We thought it was worth sharing.
A companion page to this calming dog bed page is our page to help you understand how to calm a dog down.
For anxious dogs needing extra help, there are anxiety meds that can help.  As for humans, sometimes the most comfortable bed in the world isn't the answer, and there are underlying reasons for anxiety.  Working with your vet and seeing if a medication is warranted in times like these makes sense.
We do reviews now and then, not as many as I'd like, but you can see reviews on tactical harnesses, collars, invisible fences, and more on our Reviews page.