Choosing the best bone broth for your dog requires consideration of ingredients, quality, and convenience. Bone broth is an excellent supplement to your dog's diet as a nutrient-dense and easily digestible source of vitamins, minerals, and amino acids. It promotes overall wellness, supports joint health, and helps maintain a healthy gut.
The American Kennel Club calls it "The Superfood Your Pup Needs" – with such high praise from the AKC, we should all be taking a much closer look.
Key takeaways
After extensive research and reviewing numerous bone broth products, we have chosen the finest options for your beloved canine companion. These selections promise high-quality ingredients, easy incorporation into your dog's meals, and improved well-being for your pet. Let's dive into the best options for your dog's needs.
Bone Broth – Read Before Buying
Making your own bone broth at home is undoubtedly the best approach. Many store-bought bone broths come with fillers and additives that your dog doesn't need and, if allergic, can even cause complications.
Making your own bone broth bypasses these concerns. We provide a couple of recipes a bit further down in this article.
BUT, a lot of folks don't have time to boil bones on a regular basis, so a few things to look for when shopping for store-bought bone broth:
Best Bone Broth for Dogs
We have compiled a list of the best bone broth options for your furry friends, providing them with the essential nutrients they need for optimal health and well-being.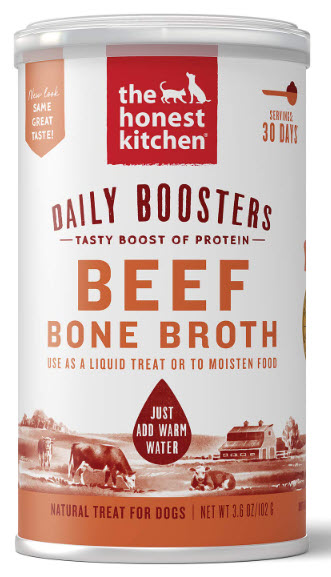 We highly recommend The Honest Kitchen's Instant Beef Bone Broth as a flavorful and nutritious addition to your pet's meal, boosting their protein intake and hydration.
Pros
Easy-to-prepare instant bone broth
High-quality, human-grade ingredients
Enhances taste and nutritional value of pet food
Cons
Limited size options
It may not be suitable for pets with specific allergies
Pricey in comparison to other bone broth options
Upon trying The Honest Kitchen's Instant Beef Bone Broth, we were impressed with its simplicity and convenience. Adding warm water, we created a nourishing homemade bone broth for our furry friends in minutes. This delicious treat made our pets' meals more enjoyable and provided added protein and hydration.
Made with 100% human-grade ingredients, we felt confident in the quality and safety of the product, knowing it met the same high standards as the food we consume ourselves. The bone broth also boasts a natural flavor with nutritious benefits from ingredients like turmeric and pumpkin.
However, there are a few drawbacks worth mentioning. Some pets may have allergies to certain ingredients in this product, so it is essential to check the ingredient list and consult a veterinarian beforehand. Additionally, given the quality of the ingredients and the brand's human-grade standards, the bone broth is more expensive than other options on the market, so it may only suit some pet owners' budgets.
The Honest Kitchen's Instant Beef Bone Broth is an excellent choice for enhancing your pets' meals with flavor and nutrition, as long as you're willing to pay a little extra for its human-grade ingredients and quality.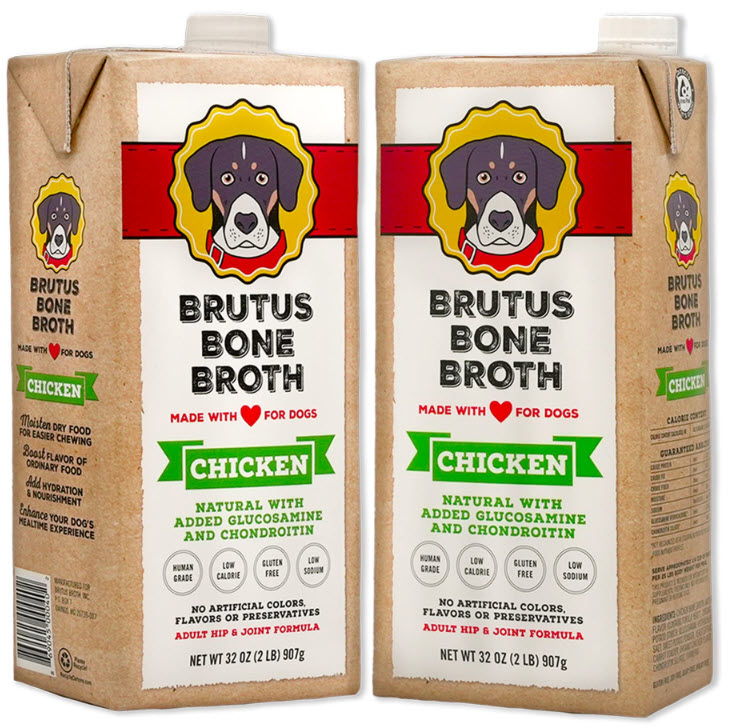 Brutus Bone Broth is an excellent choice for dogs of all ages due to its natural ingredients and joint health support.
Pros
Supports joint health with Glucosamine and Chondroitin
Made with all-natural, human-grade ingredients
Low in sodium, packed with flavor and nutrients
Cons
It may not appeal to all picky eaters
Some packaging issues were reported
Flavor variety is limited
We recently tried Brutus Bone Broth for our dogs and were pleased with the emphasis on joint health. The infusion of Glucosamine and Chondroitin in every serving makes this bone broth an excellent choice for puppies, adult dogs, and seniors. It helps keep hips and joints healthy, which is especially beneficial for older dogs experiencing arthritis or joint discomfort.
The all-natural, human-grade ingredients in Brutus Bone Broth put our minds at ease. We appreciate that it's gluten-free and made in the USA, ensuring high-quality production. The savory flavor makes it a tasty topper for dry dog food. Despite its rich flavor, it has only 0.1% sodium, so we don't have to worry about excessive salt intake.
However, some dogs may not be as enthusiastic about the flavor as others. While our pup loved it initially, their enthusiasm waned over time. For those with picky eaters, it's worth trying it out, but be prepared for mixed results. Additionally, we noticed some reviews mentioning issues with packaging, though we didn't experience this ourselves. Lastly, the flavor variety is limited, so if your dog doesn't like chicken, this may not be for them.
Brutus Bone Broth for Dogs is a fantastic choice for those seeking an all-natural, nutritious, and joint-supporting addition to their dog's diet. Just be aware that the taste may appeal to only some pups, and there may be occasional packaging problems.
Invest in Left Coast Performance's Beef Bone Broth Powder because it supports your pet's joint and gut health and keeps them hydrated while enjoying their meals.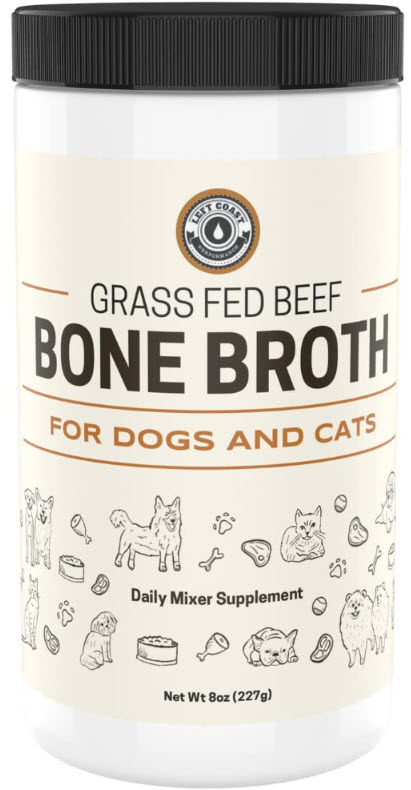 Pros
Suitable for both dogs and cats
Natural source of protein and collagen
Encourages picky eaters to enjoy their food
Cons
It may not mix well with water for all users
Goopy texture for some pets
Funky smell to some users
We tried Left Coast Performance's Beef Bone Broth Powder for our pets and noticed a significant improvement in their mealtime enthusiasm. The single-ingredient, grass-fed beef bone broth adds a delicious and enticing flavor to their kibble, making our picky eaters more eager to chow down.
Aside from improving the taste of their food, we discovered that it supports their joints and gut health, thanks to its natural protein and collagen content. This is especially beneficial for our older pets who need extra joint care.
However, we noticed one downside: the powder may not mix well with water, making it goopy for some pets. Moreover, a funky smell might be off-putting for some users. Yet despite these minor concerns, our pets have enjoyed and benefited from this high-quality beef bone broth powder.
Left Coast Performance's Beef Bone Broth Powder is worth a try if you're looking for an affordable, single-ingredient bone broth powder to keep your pets healthy and happy during mealtime. Be prepared to experiment with mixing techniques to find the perfect texture your pets will enjoy.
We recommend Native Pet Bone Broth for dogs as an easy-to-use and nutritious food topper that supports joint health and satisfies picky eaters.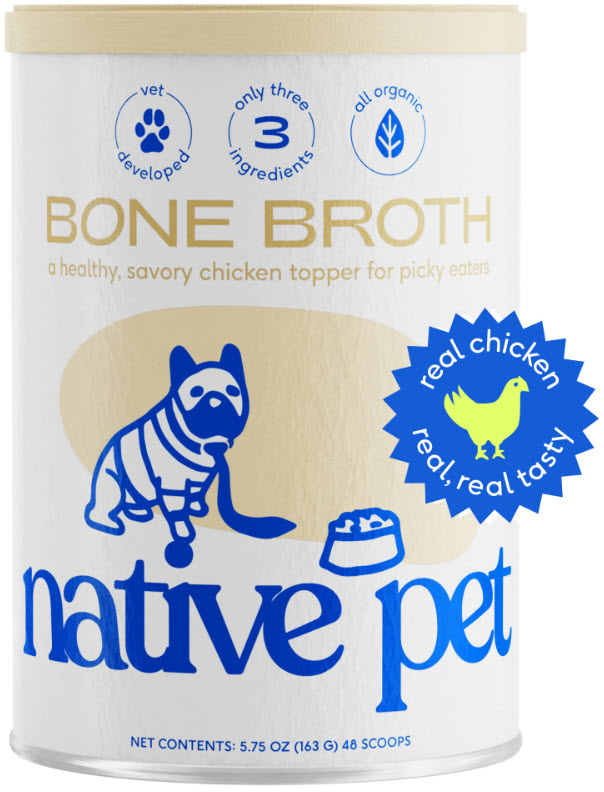 Pros
Simple to use – just sprinkle on food
Supports joint health with natural collagen
Can be used as a gravy or a topper
Cons
The container may arrive half-full
Requires mixing with warm water for best consistency
More expensive than liquid bone broth alternatives
In our experience, Native Pet Bone Broth for dogs is an excellent food topper that can easily be sprinkled over dry, wet, or freeze-dried food. As someone who has used this product for our pets, we found this bone broth is an excellent source of collagen, which benefits dogs' joints and overall health. This is especially helpful as an alternative to glucosamine supplements for joint support.
This product is also suitable for picky eaters, providing additional flavor and nutrition when mixed with your pet's regular kibble. We appreciate that Native Pet offers a money-back guarantee, ensuring you can get a full refund if your dog doesn't enjoy the bone broth.
However, there have been reports of containers arriving half-full. It requires mixing with warm water for the best consistency, which can be slightly inconvenient for some pet owners. Additionally, Native Pet Bone Broth may be more expensive than liquid alternatives. Still, the benefits to your pet's joint health and eating habits might make it worth the added cost.
We recommend trying Native Pet Bone Broth for dogs to enhance your pet's mealtime experience while supporting their joint health and satisfying even the pickiest of eaters.
You should consider purchasing these nutrient-rich and tasty bone broth bites for your pup because they're a healthy, delicious, and high-quality treat option.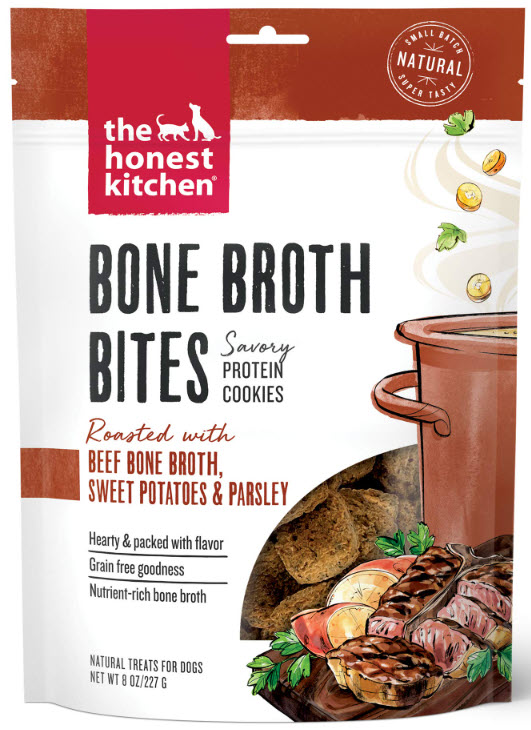 Pros
Nutrient-rich and high in protein
Tasty and slow-baked in small batches
Natural ingredients and made in the USA
Cons
Large chunks may not be suitable for small dogs
Possible intolerance for specific pet breeds
Slightly crumbly when dropped
We recently tried The Honest Kitchen Bone Broth Bites and found them a fantastic treat option for our dogs. The combination of savory beef bone broth, nutrient-rich pumpkin, sweet potatoes, and a touch of parsley makes these treats delicious, healthy, and beneficial for our pups.
The fact that these treats are slow-baked in small batches means that the quality and taste are preserved, making these cookies irresistible for our dogs. Plus, they are made with natural ingredients we can recognize, and we appreciate that they are made in the USA with uncompromising quality and safety standards.
However, we also noticed a couple of drawbacks. The size of the chunks may not be suitable for smaller dogs. As one reviewer mentioned, their dog reacted adversely to the treat, potentially due to being specifically tailored to specific pet breeds. Additionally, the treats can be a bit crumbly when dropped, so be mindful when handling them.
The Honest Kitchen Bone Broth Bites are a great addition to your dog's treat options. They're not only tasty and beneficial, but they also uphold high-quality standards. Just be cautious if you have a small dog or a dog with specific breed sensitivities, and remember that they might be a bit crumbly when handling.
Buying Guide
When looking for the best bone broth for our dogs, we must consider a few factors to help us choose the right product.
A few key features to look for:
Quality of ingredients: To ensure our dogs receive the maximum nutritional benefits from the bone broth, opting for high-quality, natural ingredients is crucial. Look for products that use organic, grass-fed, or pasture-raised animal bones, as these generally contain more nutrients.
Processing method: How the bone broth is produced can significantly affect its nutrient content. Slow-simmered broths have a higher chance of retaining more nutrients. At the same time, pressure cooking can speed up the process but might lower the nutrient content. We should look for brands that prioritize nutritional value in their processing methods.
Additives and preservatives: Some bone broth products may include artificial additives or preservatives. It's best to choose options free of chemicals and unnecessary ingredients.
Nutritional content: We should pay close attention to the nutritional breakdown of the bone broth, aiming to provide our dogs with the right balance of nutrients. Look for broths rich in amino acids, collagen, minerals, and vitamins to give our pets the best nutritional benefits.
Available Forms
Bone broth for dogs comes in various forms, each with its advantages. Listed below are some common forms and their key features.
Liquid: Often sold in pouches or jars, liquid bone broth is easy to mix with dry kibble or wet food. It requires refrigeration after opening and should be used within a specific timeframe.
Powder: A dehydrated form of broth, the powder is lightweight, easy to store, and has a long shelf life. It can be mixed with water to make a liquid broth, allowing us to adjust the consistency to our dogs' preferences.
Treats or Supplements: Some brands make treats or supplements infused with bone broth, offering a tasty way to deliver the benefits without the mess. However, these may provide fewer nutrients and are served less frequently than liquid or powder.
Understanding what to look for when selecting the best bone broth for our dogs will help ensure they receive the maximum benefits from this health-boosting supplement.
DIY Bone Broth for Dogs – getting your hands dirty
I suspect you landed on this article to find our recommendations for the best store-bought bone broth, as shared above, but allow me a little leeway and share a couple of homemade bone broth recipes that are fairly easy to make and your dogs will love.
If you are up to making your own Bone Broth, let's call it DIY Bone Broth for Dogs; here are a couple of recipes – I've even added easy-to-download-and-hang-on-your-fridge images.
Chicken Bone Broth
Ingredients:
2-3 pounds of chicken bones (raw or cooked)
1-2 carrots, chopped
1-2 celery stalks, chopped
2 tablespoons apple cider vinegar
Water to cover
Optional: A handful of parsley for added nutrition
Instructions:
Prepare the Bones: Place the chicken bones in a large pot or slow cooker.
Add Veggies: Add in the carrots and celery.
Apple Cider Vinegar: Add apple cider vinegar, which helps to extract minerals from the bones.
Water: Fill the pot with enough water to cover all the ingredients by a couple of inches.
Simmer:
If using a stove: Bring to a boil, then reduce the heat and let it simmer for 12-24 hours.
If using a slow cooker: Set it on low and cook for 12-24 hours.
Optional: Add parsley about 30 minutes before you're done cooking for extra nutrition.
Strain: Remove and discard all the bones and vegetables, keeping only the liquid.
Cool and Store: Allow the broth to cool before transferring it to storage containers. Keep refrigerated for up to 5 days, or freeze for later use.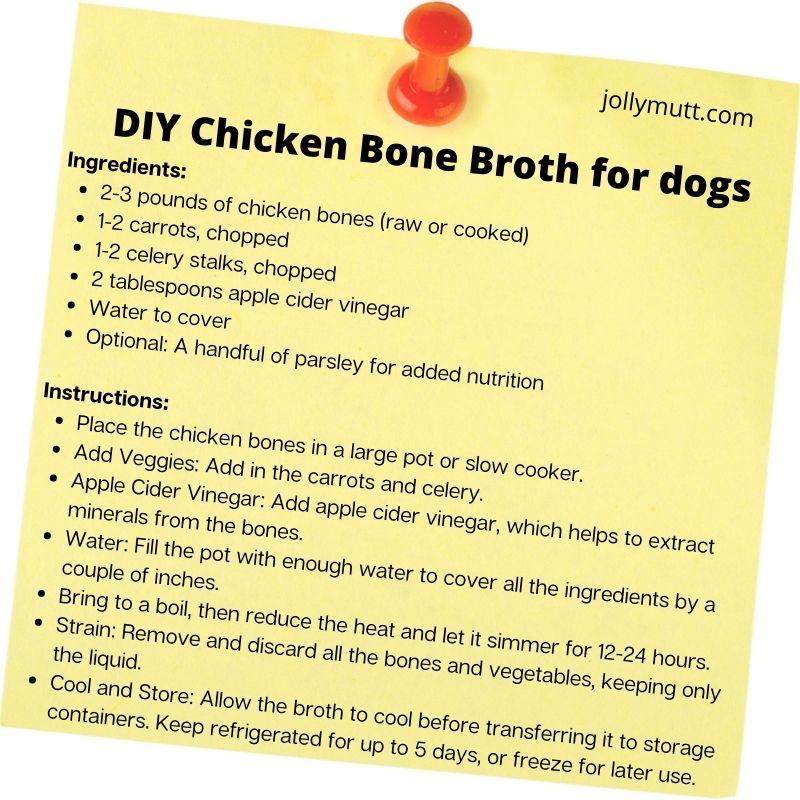 Beef Bone Broth
Ingredients:
2-3 pounds of beef bones (knuckle, marrow, or joint bones are good choices)
2-3 garlic cloves (optional, see note)
2 tablespoons apple cider vinegar
Water to cover
Optional: Add small amounts of dog-safe vegetables like carrots, bell peppers, or peas for added nutrition
Note: While garlic in very large amounts can be toxic to dogs, the small amount used here should not pose a problem, especially after long cooking. However, you can omit it if you're concerned.

For more info about garlic and other dangerous foods, see 9 most dangerous foods for dogs.
Instructions:
Roast the Bones: Preheat the oven to 400°F (200°C). Place the beef bones on a roasting pan for 30-40 minutes. This enhances flavor but is optional.
Transfer to Pot: Place the roasted bones in a large pot or slow cooker.
Optional Veggies: Add dog-safe vegetables if you're using them.
Apple Cider Vinegar: Add the apple cider vinegar.
Water: Add enough water to cover all the ingredients by a couple of inches.
Simmer:
If using a stove: Bring to a boil, then reduce the heat to low and simmer for 24-48 hours.
If using a slow cooker: Set it on low and cook for 24-48 hours.
Strain: Remove and discard all the bones and vegetables, keeping only the liquid.
Cool and Store: Let the broth cool before storing it. Store in the fridge for up to 5 days or freeze for later use.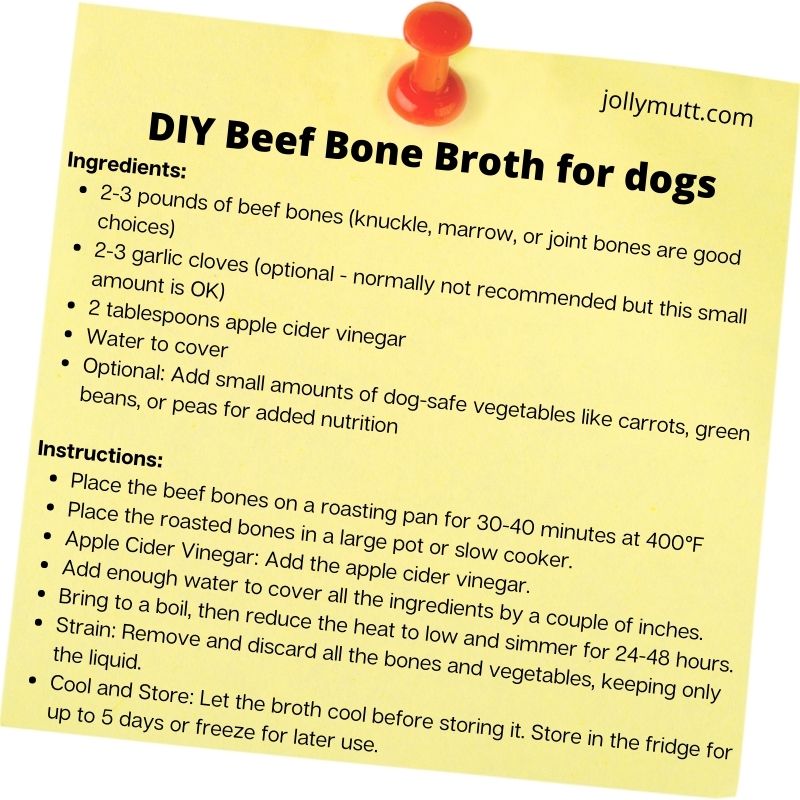 Remember to gradually introduce new foods into your dog's diet and monitor for any signs of allergies or upset stomach. Always consult your vet for personalized advice tailored to your pet's health.
Other Ways to Use Your Bone Broth – DIY or Store-Bought
Pouring bone broth over Fido's food is the normal way of feeding your dog bone broth, but how about some alternatives?
Soak healthy veggies such as carrots in bone broth and use them as a treat.
Add just a bit to your dog's water bowl to encourage them to drink more water.
Freeze in the shape of a dog-friendly lollipop – great for a treat on warm summer days (thanks Bella&Duke!)

Don't worry about being too fancy here; your dog won't care. Freeze in an ice cube tray (does anybody still use them??) or even a simple paper cup.

Mix it with your dog's wet food for an even tastier meal.
Frequently Asked Questions
What type of bone broth is most beneficial for dogs with specific health issues?
Different health issues require specific types of bone broth for optimal benefits. For example, dogs with allergies may benefit from a hypoallergenic bone broth from fish or turkey. Meanwhile, for dogs with arthritis, we recommend using a bone broth made from joint-supporting ingredients, such as chicken feet or beef knucklebones.
Is there a difference between homemade and store-bought bone broth for dogs?
Yes, there can be differences between homemade and store-bought bone broth. Homemade bone broth typically has fewer preservatives and additives, which can benefit dogs with sensitivities. However, store-bought options can still offer benefits, especially if they're made from high-quality ingredients and don't have harmful additives. It's essential to read the labels and select a trusted brand.
How much bone broth should be given to dogs?
The amount of bone broth to give a dog depends on its size and specific needs. We suggest starting with about 1/4 cup per 25 pounds of body weight daily. It's best to consult your veterinarian before introducing new dietary additions, such as bone broth, especially if your dog has underlying health concerns.
Which is better for dogs: chicken or beef bone broth?
Both chicken and beef bone broth can be beneficial for dogs, but they do offer different nutrients. Chicken bone broth tends to have higher collagen content, which is helpful for joints. In contrast, beef bone broth may have more minerals like magnesium and phosphorus. It's not necessarily a matter of what's better but more about what specific benefits your dog could use.
Are there any organic bone broth options for dogs?
Yes, there are organic bone broth options available for dogs. Some high-quality pet food brands and specialty health food stores offer organic bone broth for dogs. These broths use animal bones from organically raised animals, ensuring a cleaner and healthier product free of synthetic additives.
What are the benefits of bone broth for dogs with arthritis?
Bone broth for dogs with arthritis can provide various benefits, including joint support from the collagen and glycine content. The amino acids in bone broth can also help decrease inflammation. At the same time, the natural minerals and nutrients contribute to overall joint health. Introducing your arthritic dog to bone broth could be a helpful supplement in managing their condition.
Final thoughts about the Best Bone Broth for Dogs
Bone broth isn't just a trendy health fad—it's also a nutritional powerhouse for dogs. Packed with essential minerals, amino acids, and collagen, bone broth offers a cornucopia of health benefits ranging from joint support to digestive aid. Whether you opt for homemade bone broth or go for one of the trusted store-bought options, make sure it is free from salt and seasonings that could be harmful to your pet. Always consult your veterinarian to ensure bone broth is a good fit for your dog's diet, especially if they have special medical conditions. Bone broth can be a valuable addition to your dog's nutritional regimen, providing a tasty and healthful boost to their daily lives.