Pitbulls have shared our home for over 20 years now. They have a special place in our hearts, and we like to make sure they are comfy and know they are loved. Part of this is ensuring they are clean and snuggly (nothing snuggles quite like a Pitbull). Add a complex coat, a lot of shedding, and a propensity for skin problems, and it is crucial to find the right shampoo. Only the best shampoo for Pitbulls will do for our babies.
We've done a lot of testing and research over the years, and what follows is what we have found to be true.
In addition to years of experience, when writing this, I became almost obsessed with understanding the importance of aligning the pH balance of the shampoo you select with the pH of your dog's skin. I hadn't paid much attention to it in the past, but all the details are included below, so you can geek out on them too.
I also learned why it is not okay to bathe your dog with most human shampoos or, god forbid, dishwashing soap. Dawn may be great at washing oil off birds, but that doesn't make it the right shampoo for your Pitbull or any other dog.
Click the red box above to go straight to our recommendations, or read on to get all the geeky details.
Read on, my friend. There is a lot to learn!
Your Pitbull's Coat Explained
We often hear debates about dog fur vs. hair, so let's clear that up first.
Fur and hair are both made of keratin, a protein our bodies produce. The difference lies in the growth cycle and texture.
Dog fur grows fast and has a short life cycle, whereas hair tends to grow slower and fall out less often.
Pitbulls have fur, which is short, stiff, and close to the skin, and that is why Pitbulls shed so much.
In contrast, Poodles have hair that, for the most part, never stops growing and rarely sheds, which is why Poodles are hypoallergenic, and Pitbulls are not.
Do Pitbulls really need their own Pitbull shampoo? 
The answer is "not necessarily," but owning a Pitbull-specific shampoo can be beneficial.
Pitbulls have sensitive skin, and their short, stiff fur makes them prone to skin irritations like dry skin, allergies, dandruff, and hot spots.
A shampoo designed for Pitbulls will cater to their specific needs and keep their coat healthy and clean.
But do they really, really need a Pitbull-specific shampoo, or will any other dog shampoo work?
Any dog shampoo will work as long as the pH levels are consistent with your dog's pH levels and other needs are met.
These days I focus on the pH levels ahead of any other factor.
When choosing a shampoo for your Pitbull, look for gentle, hypoallergenic, and pH-balanced ingredients. Avoid products that contain harsh chemicals, as these can irritate the skin.
Some recommended ingredients for Pitbull shampoo include:
Aloe Vera: It soothes and hydrates dry skin.
Oatmeal: This ingredient is known for its moisturizing and anti-inflammatory properties.
Tea Tree Oil: It is a natural antiseptic that helps fight infections. If skin problems are a concern, consider a specific antiseptic such as hibiscrub for your pooch's wounds or allergies.
Understanding your Pitbull's coat characteristics and shedding habits will help you make the right decisions for grooming and maintaining their coat's health.
I recommend experimenting with different shampoos to find the perfect one for your furry friend. Your Pitbull's coat and skin will thank you for it!
In addition to the right shampoo, consider adding skin and coat supplements to your pooch's diet to help keep their coat healthy.
pH Considerations
Here's where my recent research has taken me, and I find it aligns with my experience of bathing dogs for many years.
I should note that there is a lot of conflicting data from the most authoritative data repositories, but I've tried to distill that information into easy-to-understand explanations.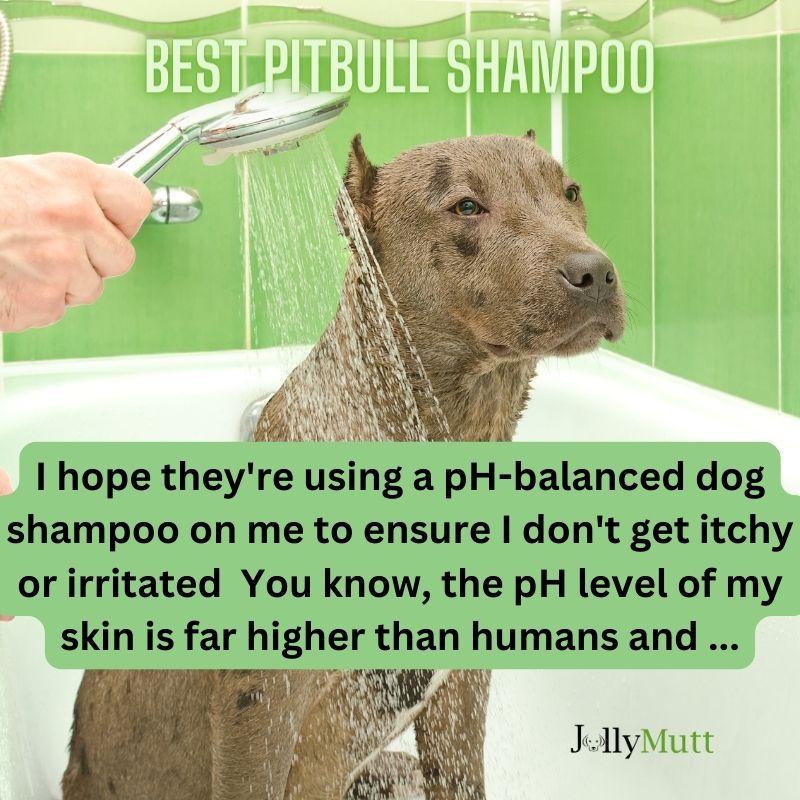 A couple of key things to know:
Dogs and humans have different needs around pH balances for shampoo
Dogs and dirty dishes also have different needs around pH balances
pH is a range of acidity vs. alkalinity from 0 – 14, with 7 being neutral (water).

Each number is 100x the level of the next, so a pH balance of 5 is 100x more acidic than a pH balance of 6. A pH of 8 is 100x more alkaline than a pH of 7.
So small changes make a huge difference!

Depending on the source, dog pH levels range from 6.2 to 7.4 (AKC), while human pH levels are in the 5.5 – 5.6 range. I couldn't find a range for dirty dishes.
Using the AKC data, the difference between the low end of the range for humans (5.5) and the high end for dogs (7.4) is about 1.9, which means a difference of almost 200x.
So using a shampoo with a pH balance for humans may be 200x more acidic than your Pitbull's skin pH level.
Let's talk about dish soap. You'll find ranges in the upper nines for dish soap, which means it could be ~200x more alkaline than your dog's skin.
The other factor to consider is the layers of the skin:
The human epidermis has 18-20 cell layers.
The dog epidermis has 8-10 cell layers.
Dog skin is thicker overall but has a far thinner epidermis layer, making it more easily damaged if incorrectly bathed.
Shampoo that is either too acidic (think sulfuric acid) or too alkaline (think lye) can strip away epidermis layers, leaving the skin susceptible to infection or irritation.
The table below provides additional insight into comparing human, dog, and common product pH levels. Notice the difference between some of the numbers pulled from the de-facto industry experts, underlying more confusion and ambiguity. Yet another reason to go with "pH-balanced" dog shampoos, in my opinion.
Given this understanding of the pH levels of dog skin, human skin, dirty dishes, human shampoo, dog shampoo, and dish soap, choosing a correctly pH-balanced shampoo for your dog only makes sense.
Here's a downloadable image of the above table to hang on your fridge. :-)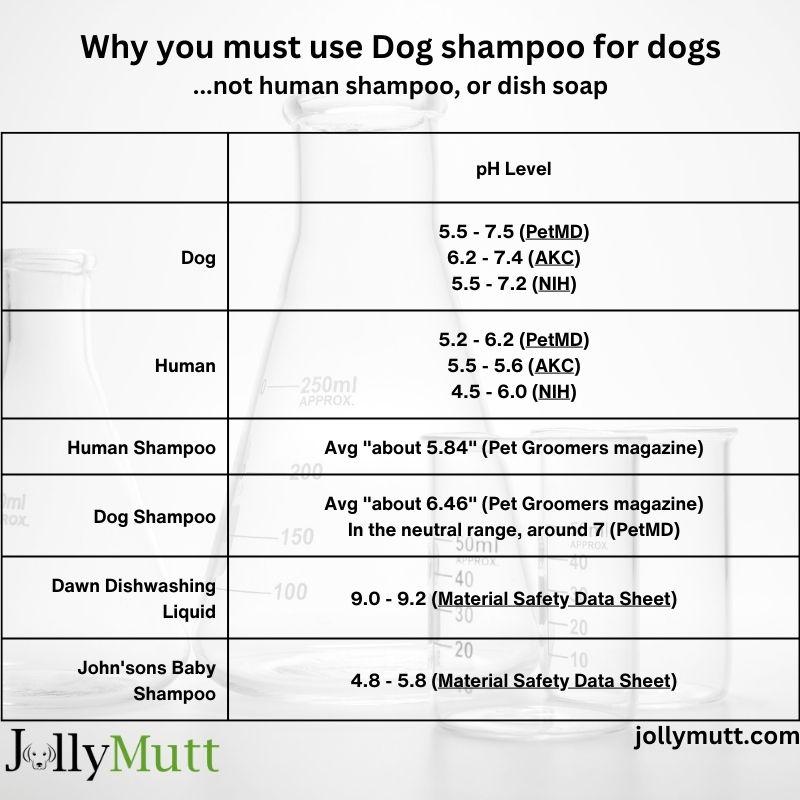 Best Shampoos for Pitbulls
We've researched and compiled a list of the best shampoos for Pitbulls to help keep their skin and coat healthy, clean, and smelling fresh.
It's rare to see an actual pH level stated on any shampoo (human or dog), but they all say "pH balanced." We can make the best decision now that we know what that means.
We also now realize that "pH balanced" shampoo for humans does not indicate it's "pH balanced" for dogs, and vice-versa.
Check out our top picks below!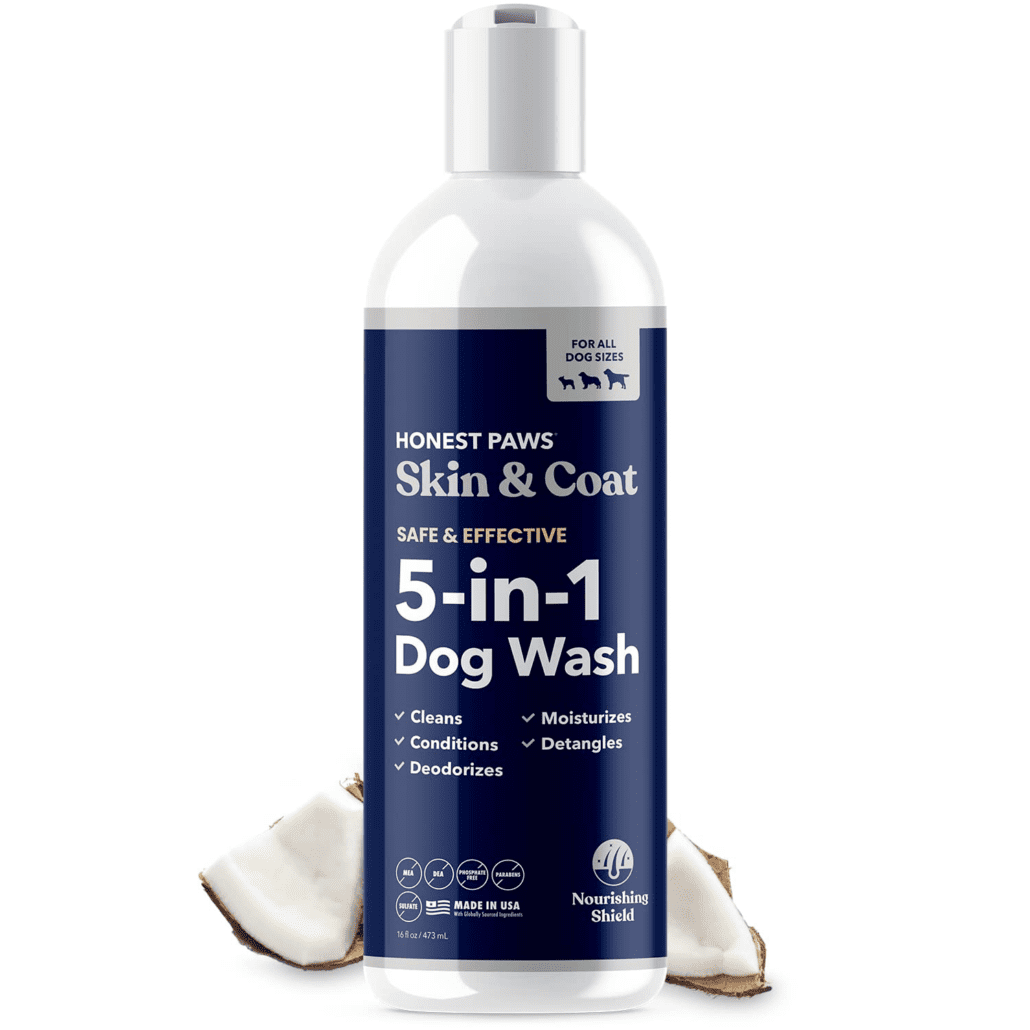 We highly recommend the Honest Paws Dog Shampoo and Conditioner for its gentle yet effective cleansing and conditioning in a single wash.
Pros
Cleans, deodorizes, conditions, detangles, and moisturizes. Detangling isn't a problem with Pitbulls, but this shampoo is also good on dogs with longer hair.
98.25% of natural ingredients are derived from coconut and palm.
Suitable for all breeds and ages over 12 weeks.
Cons
Slightly expensive compared to other dog shampoos
Limited scent option with just one 5-in-1 Pet Shampoo & Conditioner
Some users might prefer separate pet shampoo and conditioner products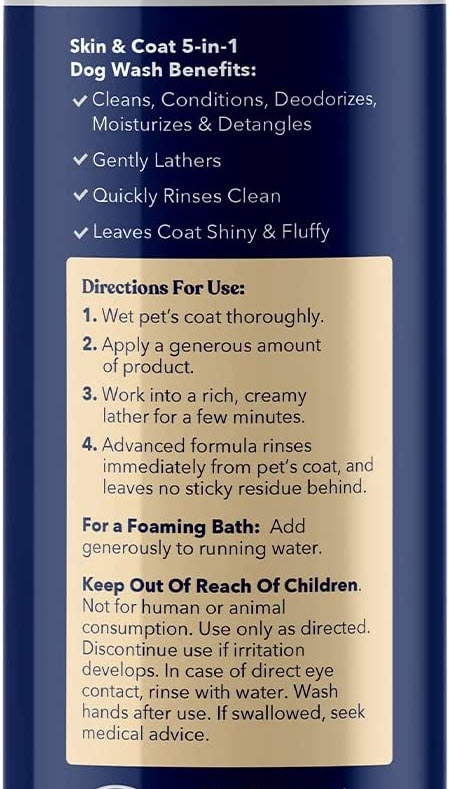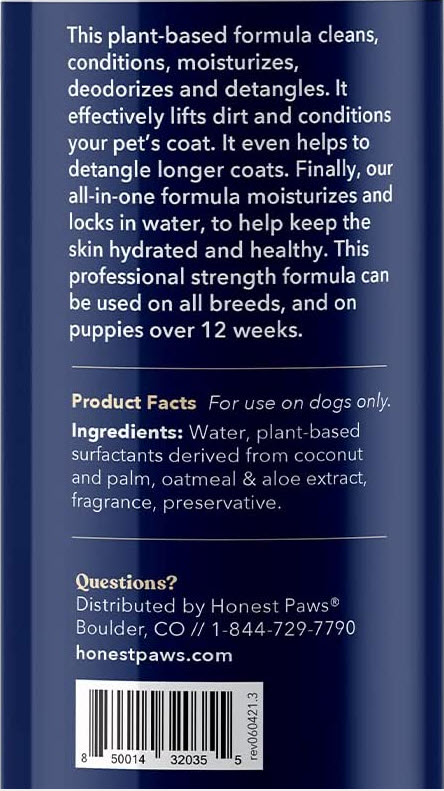 The 5-in-1 formula means you can clean, condition, and moisturize your dog's coat in just one wash, saving you time and ensuring a hassle-free bath.
As we discussed, Pitbulls have sensitive skin, and this product contains 98.25% natural ingredients derived from coconut and palm. After a bath, your pup's skin will feel soothed and moisturized, and its coat will be soft and shiny. If there is itchiness, it will be reduced significantly. If there is a problem with dry skin, your pooch will be more comfortable.
The shampoo worked well for our dog but is suitable for all breeds and ages over 12 weeks. It's free of harmful chemicals like MEA, DEA, sulfates, and parabens, making it safe for puppies.
The price is slightly higher than other dog shampoos, but the benefits outweigh the cost.
Honest Paws 5-in-1 Dog Wash is an excellent choice for Pitbulls with sensitive skin or allergies, delivering numerous benefits in a single wash. The natural ingredients and effectiveness at soothing itchy skin make it worth considering for pet owners who prioritize their dog's comfort and well-being.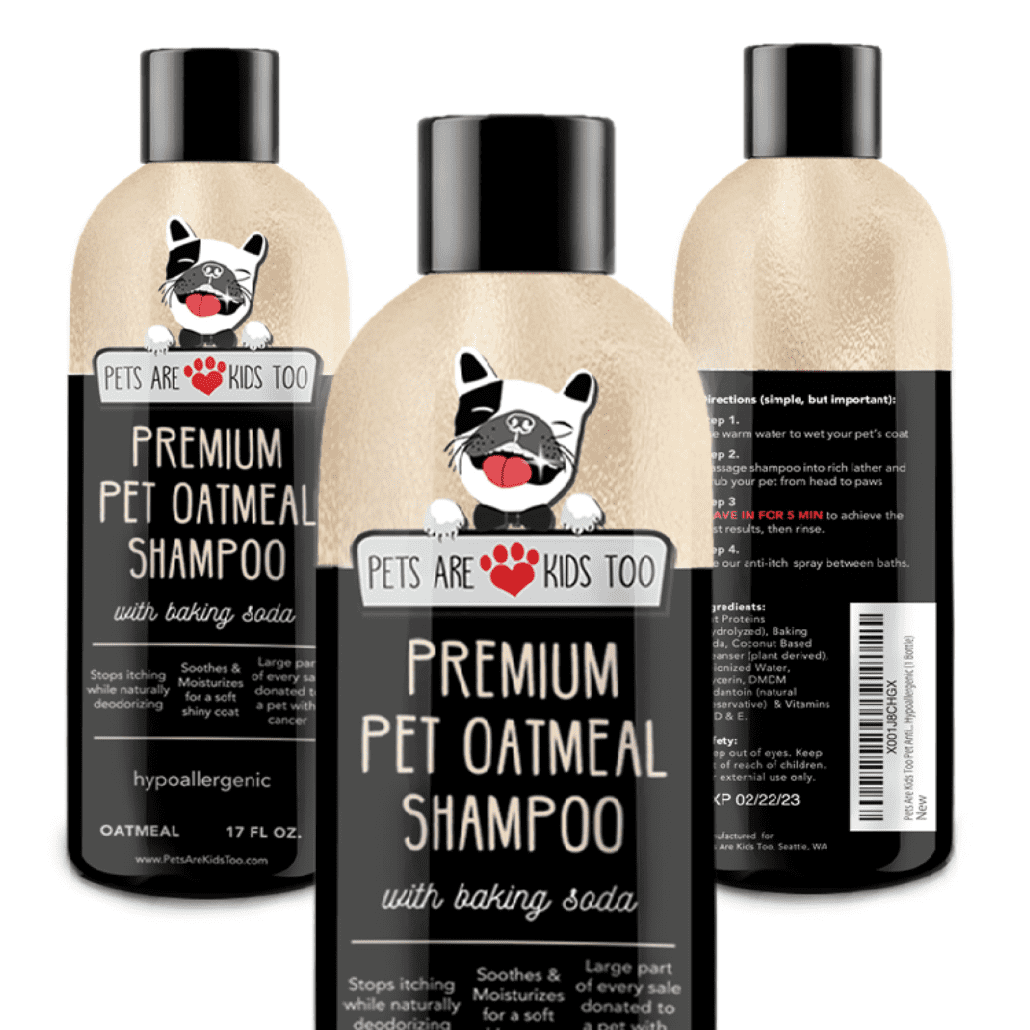 We highly recommend this shampoo and conditioner combo to relieve allergies, itchiness, and dry skin in pets with a delightful oatmeal cookie scent.
Pros
Comprehensive anti-itch formula with natural ingredients
Vet-endorsed and long-lasting oatmeal cookie scent
Pet allergy friendly and tear-free
Cons
Slightly watery consistency
It may not work for severe skin conditions
This shampoo's comprehensive anti-itch formula containing oatmeal, baking soda, aloe vera, and coconut will provide instant relief to your pets' sensitive skin and coats. The shampoo is also approved for guinea pigs, making it versatile for various pets in our household.
The pet shampoo is vet-endorsed and smells incredible – the scent is described as oatmeal cookies, and it lingers on the fur, efficiently combating odor.
This shampoo is also pet allergy-friendly, meaning it is a soap, shampoo, conditioner, and lotion – rolled into one product to help protect your doggy (or kitty) from itching, shedding, and allergies, all without using any harmful chemicals.
The product is tear-free and dandruff-free, so it only enhances our pets' comfort and moisture levels during and after bathing.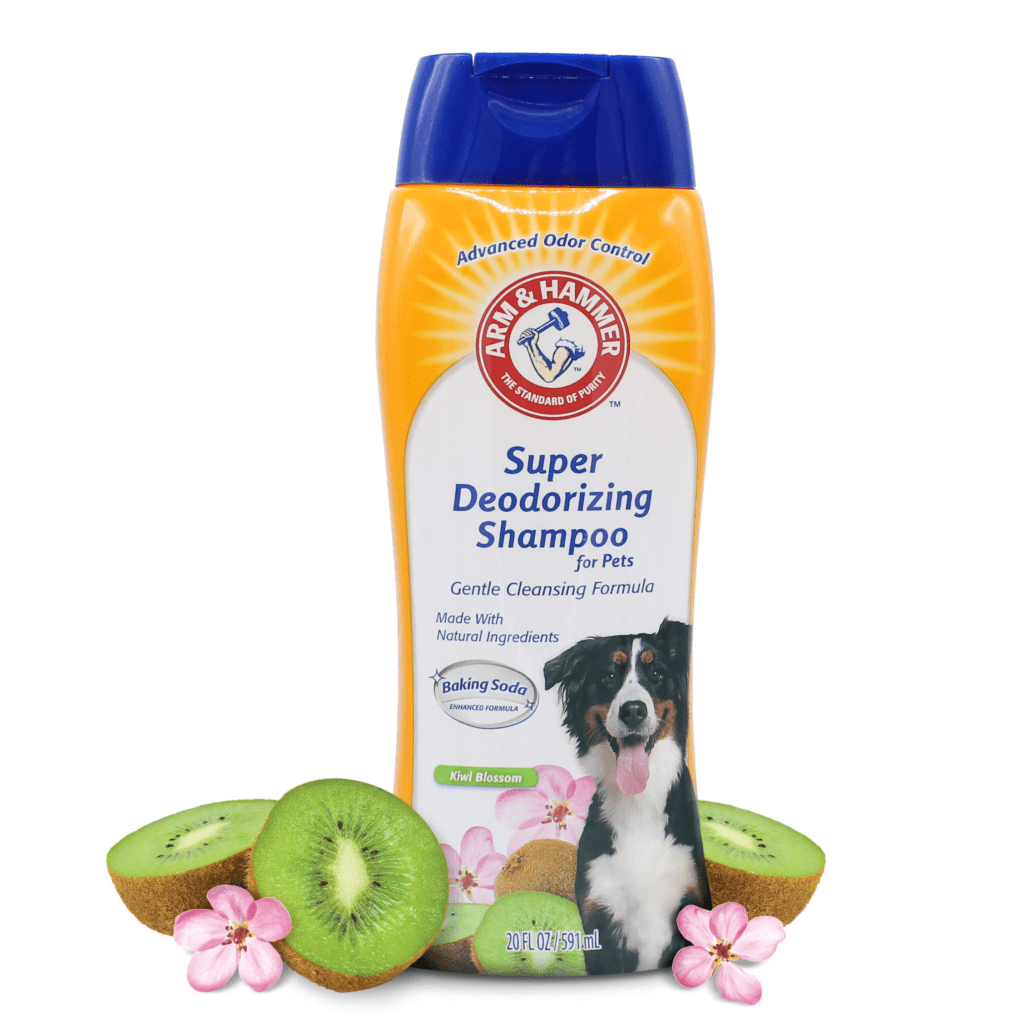 This Arm & Hammer shampoo is a game-changer for dog owners seeking a powerful yet gentle solution to control and eliminate strong odors from their furry friend's coat.
Pros
Excellent odor control with baking soda
Natural ingredients, safe for topical treatments
Pleasant kiwi blossom scent
Cons
It may require regular use for optimal results
Not the strongest scent available
The shampoo will leave your dog's coat clean and fresh and get rid of the strong odors that build up after a long day of outdoor activities. The addition of baking soda neutralizes and eliminates harsh smells.
Another fantastic aspect of this shampoo is that it's made from natural ingredients, including kiwi extract, white tea extract, and baking soda.
Many of our dogs have sensitive skin, so we appreciate the gentle moisturizing formula. It's also safe to use with topical flea and tick treatments, giving us peace of mind about our Pitbull's health.
The kiwi blossom scent adds a hint of freshness, making our furry friends smell clean and pleasant between baths. While the scent is lovely, it might not be everyone's favorite, but it's a refreshing change from the typical fragrances used in dog shampoos.
To maintain its effectiveness, the shampoo may require regular use. Although the bottle design could use some improvement, as we experienced some issues with leakage, it didn't undermine our overall satisfaction.
Arm & Hammer Super Deodorizing Shampoo is an excellent choice for Pitbull owners seeking a gentle yet effective solution to tackle odors while providing their dogs with a clean and healthy coat. Its use of natural ingredients and pleasant scent earn it a place on our list of recommended shampoos for dog owners.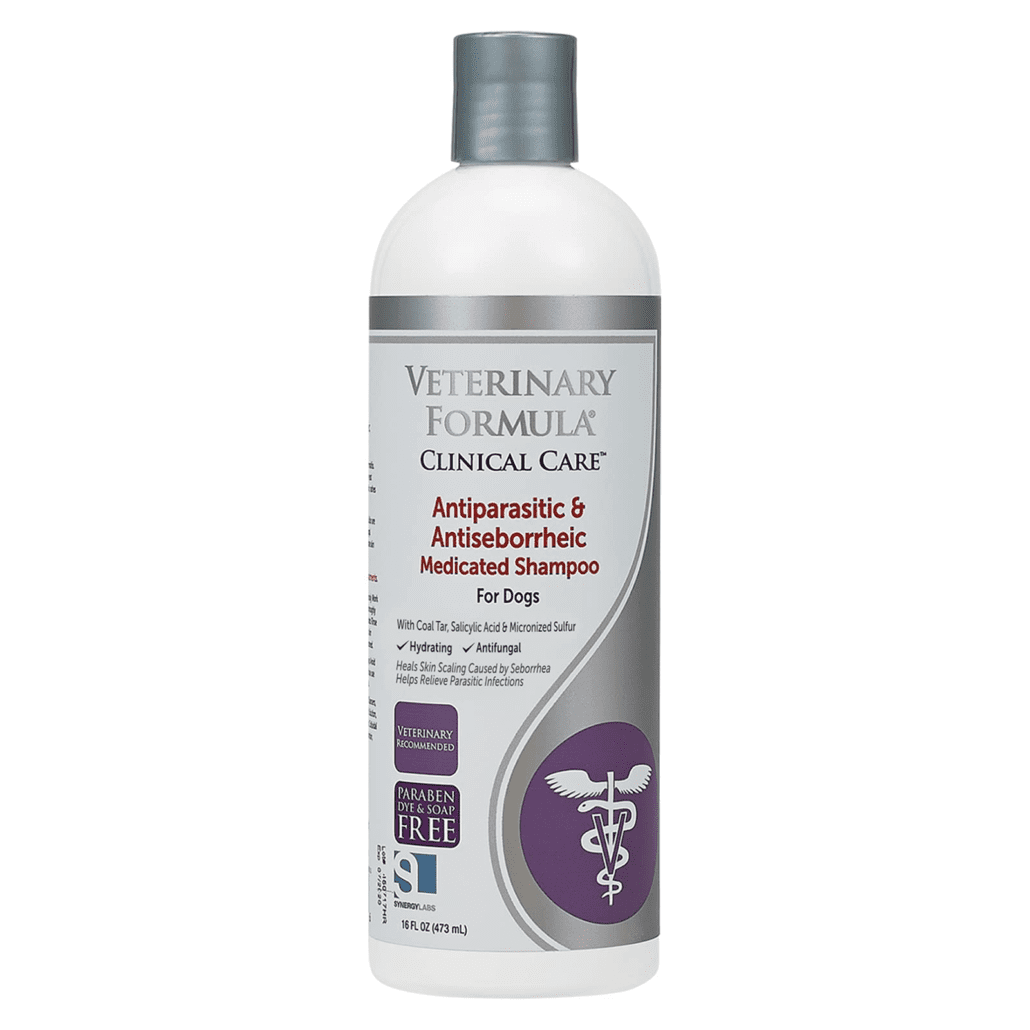 The perfect shampoo for Pitbull owners to help their pets combat skin issues effectively and affordably.
Pros
Fast-acting relief for various skin conditions
Gentle, soothing formula with hydrating ingredients
Vet-recommended and safe for dogs with allergies
Cons
Should not be used on cats
It may not be suitable for dogs with extremely sensitive skin
It may require multiple uses to achieve the desired result
This shampoo tackles various conditions like seborrhea, mange, and other parasitic and fungal infections. As you wash your dogs with this shampoo, you'll see it is gentle on their skin yet potent enough to help alleviate their symptoms. The ingredients, such as salicylic acid, coal tar, and micronized sulfur, targets the underlying causes of skin issues. At the same time, colloidal oatmeal and allantoin works to hydrate and nourish their skin.
Compared to other shampoos we've tried, this product seemed a fantastic option to handle our dog's needs without causing harm or irritation. Given its easy-to-follow treatment regimen and its safe use with other flea and tick prevention methods, it was an excellent choice for our pooches.
However, it's essential to remember that this shampoo is not recommended for cats and might not be suitable for dogs with extremely sensitive skin. Results may vary, so it's essential to be patient and consistent with the application. Always consult your veterinarian if you have any concerns or if the skin issues persist.
In summary, the Veterinary Formula Clinical Care Antiparasitic & Antiseborrheic Medicated Dog Shampoo is an excellent investment for Pitbull owners who want to provide the best care for their pets' skin.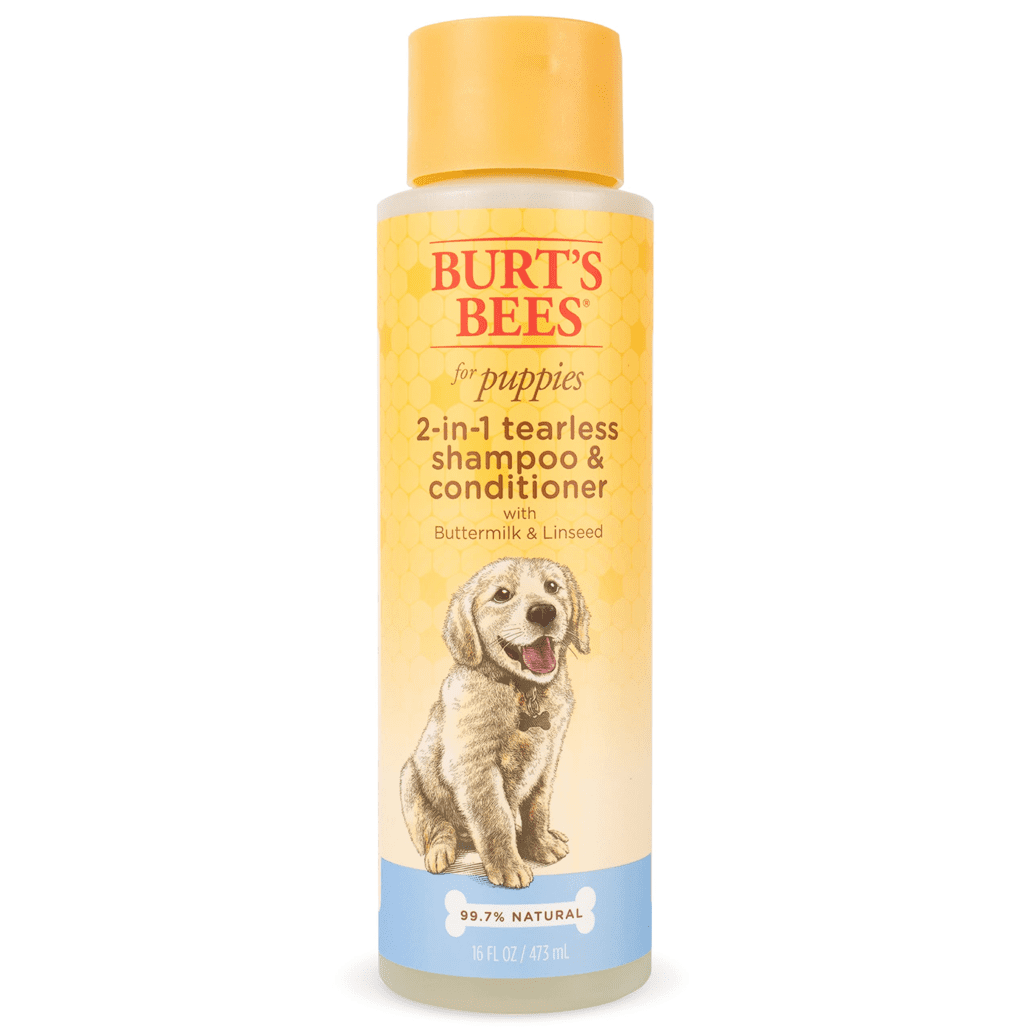 We highly recommend Burt's Bees for Puppies Natural Tearless 2 in 1 Shampoo and Conditioner for its gentle and nourishing formula, perfect for your pitbull's sensitive skin and coat.
Pros
Tearless formula with buttermilk for puppies
Free of sulfates, colorants, added fragrance, or harsh chemicals
Safe for all dogs and puppies
Cons
Watery consistency
No strong, fresh scent after bathing
It might require more product to create lather
We noticed a significant improvement in our pitbull's coat and skin after using Burt's Bees for Puppies Natural Tearless 2-in-1 Shampoo and Conditioner. With its soothing buttermilk and linseed oil, it helps to soften the fur and moisturize the skin, leaving our furry friend looking and feeling refreshed.
The shampoo has a gentle formula free of sulfates, colorants, and other harsh chemicals, making it perfect for pets with sensitive skin. However, the watery consistency required more product to create a good lather. This might not be a bother for some, but it could be an issue for those who prefer thicker shampoo.
Lastly, while the shampoo is safe and gentle for all dogs and puppies, we noticed no strong, fresh scent after bathing. This might be fine for some pet parents, but this product might not be your top pick if you're looking for that freshly bathed smell. Overall, Burt's Bees for Puppies Natural Tearless 2 in 1 Shampoo and Conditioner is an excellent option for keeping your pitbull clean and happy.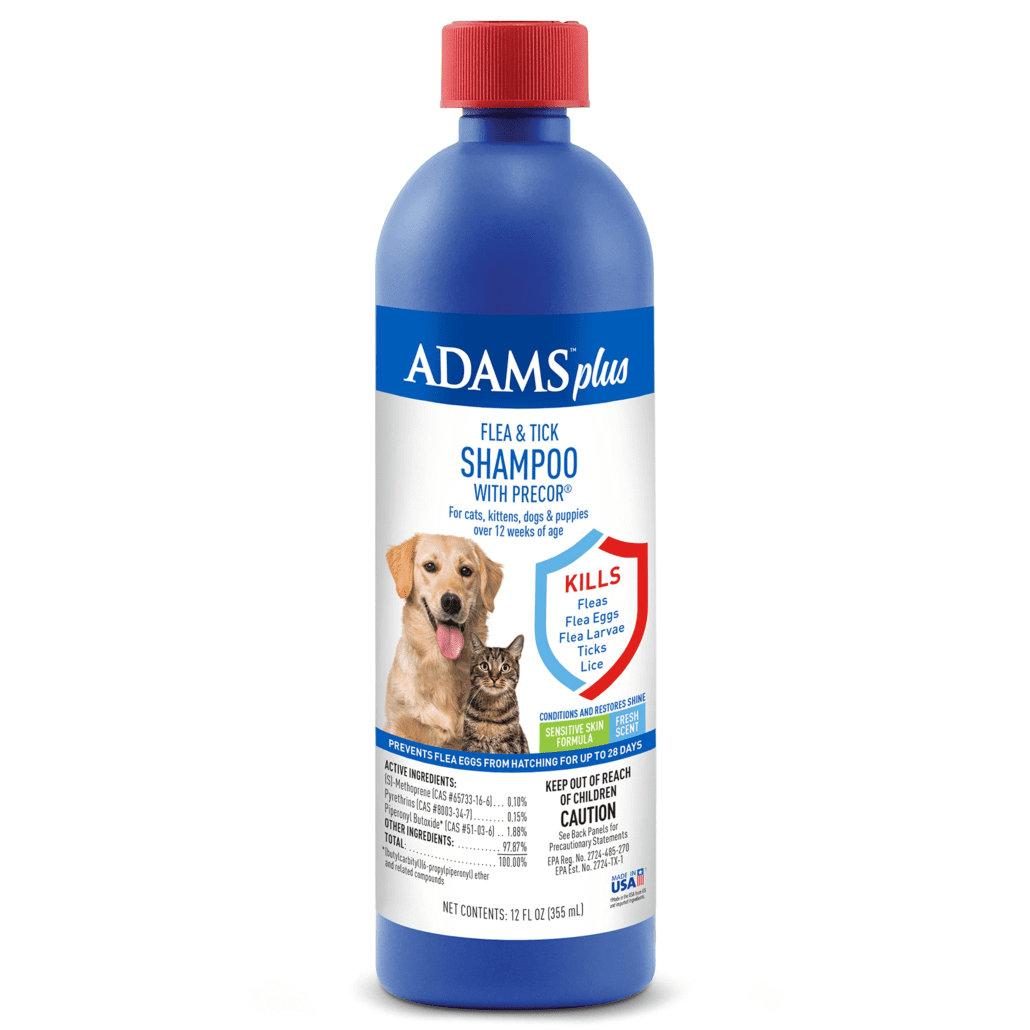 This shampoo is highly recommended for its effectiveness in eliminating fleas, ticks, and lice while providing a soothing touch for sensitive skin.
Pros
Effective in killing adult fleas, ticks, and lice
Contains soothing ingredients for sensitive skin
Long-lasting flea prevention for up to 28 days
Cons
It may cause irritation if it comes in contact with human skin or eyes
Strong fragrances may not be appealing to some
It may not work effectively on dogs with allergies
We recently tried the Adams Plus Flea & Tick Shampoo with Precor on our pitbull, and we were genuinely impressed with its ability to eliminate the pesky fleas and ticks that had been bothering our furry friend. The shampoo lathered nicely, and we could see the fleas and ticks falling off during the bath.
One of the things we appreciated about this shampoo was its formulation for sensitive skin, with ingredients like aloe, lanolin, coconut extract, and oatmeal. Our Pittie seemed much more comfortable after the bath, and it also left a pleasant, light scent on its coat.
However, be cautious while using this shampoo, as it may cause irritation if it comes in contact with human skin or eyes. We recommend using gloves during the bath and being extra careful while washing your dog's face.
The only downside we noticed was the strong fragrance of the shampoo, which might not be appealing to everyone. But considering the shampoo's effectiveness in tackling fleas, ticks, and lice, this is a minor issue.
In conclusion, we highly recommend the Adams Plus Flea & Tick Shampoo with Precor for effectively dealing with flea and tick infestations on your beloved Pibble. Just be aware of its strong fragrance and handle it carefully to avoid skin irritations during the bath.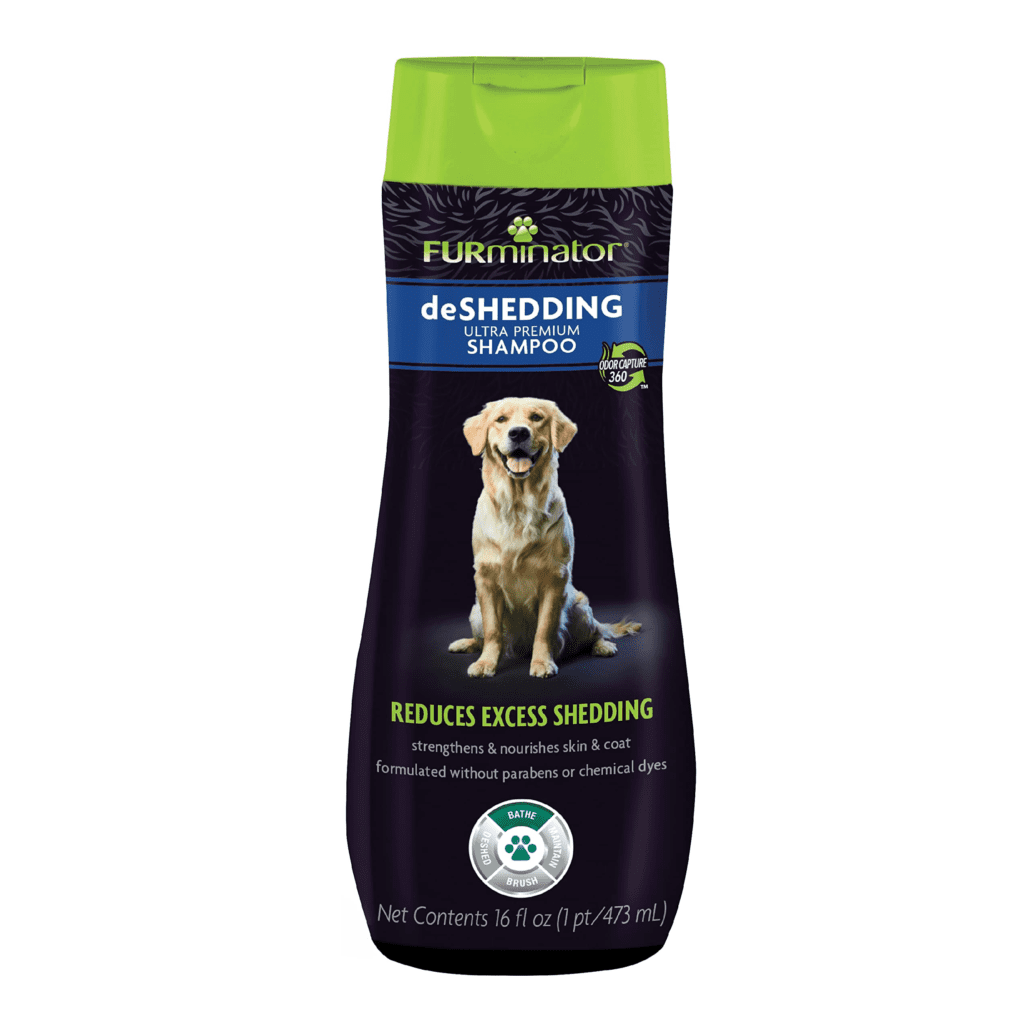 This shampoo is highly recommended for its effectiveness in reducing shedding, nourishing the coat, and eliminating the wet dog smell.
Pros
Effectively reduces shedding
Nourishes and strengthens the coat
Effectively removes wet dog smell
Cons
It might not work as well for extreme shedding cases
It may require multiple uses to see significant improvement
Some users prefer the older version of the product
This shampoo has a pleasant smell and effectively removes the wet dog odor, a common concern for many Pitbull owners. The unique formula with multiple conditioning agents nourishes and strengthens the coat, leaving it soft and shiny.
The shampoo also helps reduce shedding, a significant issue Pitbull owners face. After using this product consistently, you'll notice a significant reduction in shedding, making it much easier to manage your dog's coat. While it might not completely eliminate shedding for heavy shedders, it makes a noticeable difference.
Overall, the FURminator Ultra Premium Deshedding Shampoo is an excellent product for Pitbull owners looking to reduce shedding and enhance the overall health of their dog's coat. Although some users may prefer the older product version, we found this new formula highly effective and worth trying. We recommend using this shampoo in combination with FURminator deShedding Ultra Premium Conditioner for optimal results.
Buying Guide
When looking for the best shampoo for our Pitbulls, there are several factors we need to consider to ensure the product is not only safe but also effective. Here's a guide to help us make the right choice:
Ingredients
Choosing a shampoo with gentle and natural ingredients is essential, as Pitbulls can have sensitive skin. We should look for shampoos with ingredients like oatmeal, aloe vera, and chamomile. These ingredients can help soothe and hydrate our canine friends' itchy skin without causing any irritation. You can't go wrong with an aloe shampoo as it soothes irritated skin while helping your pooch feel more comfortable. A win/win. 
pH Balance
A shampoo specifically formulated for dogs will have a pH balance appropriate for their skin. It's crucial to ensure the product we choose has a pH between 6.5 and 7.5, which is ideal for our Pitbulls' skin. Shampoos with the wrong pH can lead to skin issues and irritations.
Fragrance-Free or Mild Scents
Some Pitbulls may have sensitivity to strong fragrances, so we recommend choosing a fragrance-free or mildly-scented shampoo. If a scent is preferred, ensure it comes from natural essential oils, which can offer additional benefits like calming effects or flea and tick repellent.
For us, we lean towards unscented shampoos just to ensure there are no extra ingredients that may cause skin problems.
Shed Control & De-shedding
Pitbulls are known to shed, and some shampoos can assist with controlling and minimizing shedding. Look for products specifically designed to help with de-shedding to make grooming and cleaning our home more manageable.
Below is a list of features to consider when selecting a shampoo for our Pitbulls:
| | |
| --- | --- |
| Feature | Importance |
| Ingredients | Natural, gentle, and soothing ingredients like oatmeal, aloe vera, and chamomile are ideal |
| pH Balanced | Make sure it has a pH between 6.5 and 7.5, which is suitable for a dog's skin |
| Fragrance | Choose fragrance-free or mild scents, preferably from natural essential oils |
| Shed Control | Look for shampoos that specifically address shedding to make grooming easier |
By considering all these factors, we can confidently select a shampoo that will keep our Pitbulls clean and comfortable while minimizing the risk of causing skin irritation or other issues. Happy grooming!
FAQ
What should I bathe my Pitbull with?
You should bathe your Pitbull with a high-quality dog shampoo specifically formulated for their needs. Avoid using human shampoos or soaps, as they can disrupt the natural pH balance of your dog's skin. Opt for a gentle and moisturizing dog shampoo that will cleanse and nourish their coat without causing irritation.
A point to consider is that since Pitbull coats are sometimes wirey, "hair splinters" are a real consideration. If you haven't experienced this yet, good for you, but the more you bathe your dogs, the higher the likelihood you will. We recommend frequent baths to help keep the coat as soft as possible and also wearing grooming gloves to help prevent the chance of catching hair splinters.
How often should I bathe my Pitbull?
Bathing your Pitbull frequently depends on their lifestyle, activity level, and individual needs. In general, Pitbulls typically benefit from bathing every 4-6 weeks. However, if your dog gets excessively dirty, has a skin condition, or develops a noticeable odor, you may need to bathe them more frequently. It's essential to strike a balance, as excessive bathing can strip the coat of its natural oils.
How can I improve my Pitbull's coat?
Ensure a balanced diet with high-quality dog food to improve your Pitbull's coat. Regular grooming and brushing can help remove loose fur and distribute natural oils for a healthier coat. Using a conditioning spray or oil specifically formulated for dogs can also help improve your Pitbull's coat's shine and overall condition. There are also skin and coat supplements that can be helpful.
Why does my Pitbull smell even after a bath?
Persistent odor in Pitbulls can be caused by various factors, including skin infections, allergies, ear issues, or poor grooming.
If your Pitbull continues to have an unpleasant odor even after bathing, it's advisable to consult with a veterinarian. They can assess your dog's health, identify underlying causes, and recommend appropriate treatments or further steps to address the odor issue.
Can I wash my Pitbull with Dawn soap?
Using Dawn soap as a regular shampoo for your Pitbull is not recommended.
While Dawn is effective for removing grease and oil, it is not formulated for the dog's skin and can disrupt the natural pH balance. It's best to stick to dog-specific shampoos that are gentle and safe for their skin and coat.
How do I keep my Pitbull smelling good?
To keep your Pitbull smelling good, establish a regular grooming routine that includes brushing to remove loose fur and prevent matting.
Use a mild and dog-friendly shampoo during baths and ensure thorough rinsing to eliminate residue.
Additionally, keeping their bedding clean, regular dental care, and addressing any underlying health issues can contribute to a fresher-smelling Pitbull.
Is baby shampoo safe for Pitbulls?
Baby shampoo is generally considered safe for occasional use on Pitbulls, but it's important to be cautious.
Baby shampoos may contain fragrances or other ingredients that could potentially irritate a dog's skin.
It's advisable to opt for a dog shampoo that is formulated to meet the specific needs of Pitbulls and has been tested and approved for canine use.
How do you wash a Pitbull's face?
When washing a Pitbull's face, it's important to be gentle and avoid exposing its eyes, ears, and nose to excessive water or shampoo.
Use a soft washcloth or a specifically designed pet face wash to clean their face. Wet the washcloth with lukewarm water and gently wipe their face, focusing on areas like the muzzle and around the eyes.
Be cautious around sensitive areas and avoid getting water or shampoo in their eyes or ears.
Rinse the washcloth thoroughly and repeat as necessary until their face is clean.
Remember to reward your Pitbull with praise and treats to make the experience positive and enjoyable for them.
Should you use conditioner on Pitbulls?
Using a conditioner on Pitbulls can be beneficial, especially if their coat is prone to dryness.
Conditioners help to moisturize the coat, making it easier to groom and reducing the risk of matting.
Look for a conditioner specifically formulated for dogs, follow the instructions on the product, and ensure thorough rinsing to prevent any residue build-up.
Do Pitbulls really need special shampoo?
Pitbulls don't necessarily require special shampoos, but it's recommended to use shampoos formulated for dogs that meet their specific needs.
Pitbulls can have sensitive skin, so mild, hypoallergenic shampoo can help prevent skin irritations or allergies.
Additionally, certain shampoos designed for dogs with specific coat types or conditions, such as those targeting shedding or dry skin, may provide added benefits for your Pitbull's coat and overall skin health.
Can I use human shampoo on my dog?
Using regular human shampoo on dogs is not recommended.
Human shampoos are formulated for the pH balance and specific needs of human skin, which differs from the pH and characteristics of a dog's skin.
Regular shampoos can strip away the natural oils in a dog's coat, leading to dryness, irritation, or skin problems. It's best to use shampoos specifically made for dogs to ensure their skin and coat health.
Is baby shampoo good for Pitbulls?
Baby shampoo is generally milder than adult shampoos, but it is not specifically formulated for the needs of dogs.
While baby shampoo may be used in certain circumstances under the guidance of a veterinarian, it is recommended to choose a dog shampoo that caters to the specific needs of your Pitbull's skin and coat.
Is Dawn dish soap safe for dogs?
While Dawn dish soap can be used in certain situations to remove oil or grease from a dog's coat, it should be used sparingly and only as directed by a veterinarian.
Dawn is not formulated for regular use on dogs, and its high pH can disrupt the natural balance of a dog's skin.
Dog-specific shampoos that are gentle and formulated for their skin and coat are generally recommended for regular bathing.
What happens if I bathe my dog with normal shampoo?
Using normal shampoo meant for humans on dogs can disrupt the natural pH balance of their skin and coat.
This can lead to dryness, irritation, itchiness, and other skin problems.
Additionally, human shampoos may contain fragrances, chemicals, or ingredients that are unsafe for dogs. It's important to use shampoos specifically designed for dogs to maintain their skin and coat health and to prevent any potential adverse reactions.
Is it OK to use Johnson's baby shampoo on dogs?
While Johnson's baby shampoo is generally considered mild, it is formulated for human use and may not be ideal for dogs.
Dogs have different skin pH levels and specific grooming needs. It's recommended to use shampoos specifically formulated for dogs, as they are designed to maintain the health and balance of a dog's skin and coat. Consult a veterinarian for suitable dog shampoo options that meet your dog's specific requirements.
Best shampoo for smelly Pitbull
When dealing with a smelly Pitbull, it's important to address the underlying cause of the odor, such as skin infections, allergies, or poor hygiene.
Look for shampoos specifically formulated to combat odor and refresh the coat, such as those containing ingredients like oatmeal, aloe vera, or natural deodorizers. Some popular options for tackling odor in Pitbulls include shampoos that have antibacterial or antifungal properties to address potential skin issues contributing to the smell.
Look for shampoos that are gentle on the skin, pH-balanced, and free from harsh chemicals. Consulting with a veterinarian can help determine the best shampoo for your specific Pitbull needs and address any underlying odor concerns.
Best shampoo for white Pitbulls
White Pitbulls may require specific shampoos that help maintain the brightness and cleanliness of their coat.
Look for shampoos specifically formulated for white or light-colored dogs, as these usually contain brightening agents that help prevent discoloration and enhance the natural shine of their fur.
Choosing a gentle and moisturizing shampoo is important to avoid drying out the coat. Remember to follow the instructions on the product and rinse thoroughly to prevent residue buildup.
Best shampoo for shedding Pitbulls
If your Pitbull experiences excessive shedding, choosing a shampoo that helps manage shedding can be beneficial.
Look for shampoos that contain ingredients like omega fatty acids, biotin, or natural oils, as these can help promote a healthy coat and reduce shedding.
These shampoos work by nourishing the skin and strengthening the hair follicles. Regular brushing in combination with a shedding-specific shampoo can help minimize the amount of loose fur and keep your Pitbull's coat in better condition.
The Best Shampoo for Pitbulls – Recap
We've looked at various brands and formulations to find the best shampoo for Pitbulls. We've considered pH levels, skin sensitivity, common skin issues, and fur quality. We've landed on a few shampoos that will serve you and your Pitbull well.
In our experience, these shampoos have consistently delivered the best results for our beloved Pitbulls. Remember that every dog is different; finding the perfect shampoo for your dog may take trial and error. Always consult your veterinarian if you have concerns or questions about your Pitbull's skin or coat health.
Finally, maintaining a regular grooming schedule is essential to keeping your Pitbull's fur clean and healthy. We recommend brushing their coat a few times a week and bathing them every 4-6 weeks with the chosen shampoo.
We hope this information has been helpful in your search for the best dog shampoo for your Pitbull. We aim to ensure your four-legged friend stays happy, healthy, and looks their best!
American Kennel Club (AKC)
PetCareRx
ASPCA Pet Health Insurance
Embrace Pet Insurance
National Institue of Health (NIH)
Pet Groomers Magazine
PetMD
YouTube:
Royal Canin
Fur Everloved
Epi-Pet
May 2023 – first published